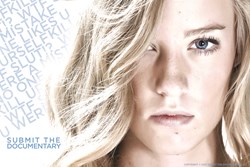 The Internet has opened the world to children, but it has also opened up our children to the world.
Atlanta, GA (PRWEB) November 12, 2013
Director Les Ottolenghi releases the Classroom Cut of film "Submit the Documentary" the reality of cyberbullying, online today. Two weeks ago the Director's Cut was put online via Vimeo and YouTube and received over 2000 views in just a weeks' time. The film's mission is to help parents and teachers start a dialogue with today's teens and tweens about the severity of cyberbullying and how sexting could impact their future.
The classroom version can be found on YouTube (http://www.youtube.com/watch?v=i_YwW0BzEy8) Educational guides developed by Dr. Sheri Bauman and the University of Arizona are available for school screenings by contacting the filmmakers on their website (http://www.cbully.com) This is a 10-page complimentary screening guide that includes before, during, and after questions related to the educational documentary film. Also available is an online and/or printable survey being used to gather more data information on cyberbullying and sexting for the University of Arizona.
Common Sense Media gives the documentary four stars, "Submit the Documentary is earnest, comprehensive, and emotionally shattering. Carefully defining cyberbullying, using personal stories to provide emotional impact, and showing the powerlessness of those who are victimized (both the kids and adults they turn to for help) ultimately leads the filmmakers to find and deliver solutions. Difficult though those solutions may be to implement, the film offers hope, as well as concrete ways for kids to help themselves -- and others" (http://www.commonsensemedia.org/movie-reviews/submit-the-documentary-the-virtual-reality-of-cyberbullying).
The cyberbullying film was also recently shown in Nashville, TN for the International Bullying Prevention Conference 2013 and the film is also showing tonight November 12 in Birmingham, AL at The Edge Theater. For more information on screenings and events visit (http://www.submitthedocumentary.com/take-action/events/).
Watch the film online today with your class and print off easy resources for parents, teachers, and teens through the film's online resource center (http://www.submitthedocumentary.com/resources/educational-resources/).