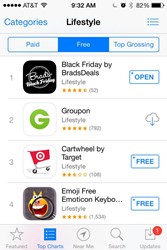 Almost half of the U.S. population will be daily mobile internet users by the end of this year
Chicago, IL (PRWEB) November 12, 2013
The shift to mobile by consumers is hard to debate as Forrester Research predicts that almost half (43.7%) of the U.S. population will be daily mobile Internet users by the end of this year. Brad's Deals, the largest editorial source of hand-picked discounts and deals with more than 10 million users, has adopted the 'mobile first' strategy as we look to support consumer demand.
The Brad's Deals free Black Friday by BradsDeals app updated for iPhone and new for iPad was launched last week and the consumer response has been incredible with more than 200K downloads in the first few days, driving it to #1 in the 'Lifestyle' category on the App Store.
Reinforcing this shift, Brad's Deals has seen a 20% year-over-year increase in mobile traffic to our site equalling 53% of our total traffic (up from 25% of total traffic in 2012).
The Black Friday by BradsDeals app lets you:

Browse Black Friday ads and doorbusters with a swipe.
Get notified when new Black Friday ads leak.
Read the latest Black Friday news, rumors and announcements.
Share your favorite ads and doorbusters with friends and family.
Save deals and doorbusters to buy later.
To learn more about or to download the Black Friday by BradsDeals app directly, please visit the App Store.
About BradsDeals
BradsDeals.com is the largest editorial-driven deals site with more than 10 million email subscribers. For the past 11 years, BradsDeals has been dedicated to publishing the best online deals and coupon codes daily. Editor-in-Chief Brad Wilson created BradsDeals while a college student in 2002 as a way to spread the word about the online shopping tips and tricks that he learned as a student. Today, BradsDeals is also home to Brad's Black Friday and CyberMonday2013, reaching more than 25 million visitors annually.