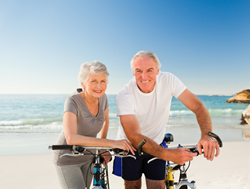 "Over two dozen calculators are right there at the consumer's fingertips," says company CEO Scott Briggs, "and only two or three are annuity-specific."
Farmington Hills, MI (PRWEB) November 13, 2013
A local wealth management veteran has launched a new consumer information company. Scott Briggs announced this week that he has created Annuities24-7.com., Inc. But don't let the name fool you.
The company's website was actually created to help consumers make informed financial choices -- not just promote annuities.
According to CEO Briggs, "Annuities can be an important part of a consumer's retirement savings strategy." The goal of Annuities24-7.com, he continued, "is to give the consumer a broad base of knowledge about all their options, not just annuities."
Given that the company's stated goal is consumer education, not pushing products, the Annuities24-7.com site offers a library of useful "Calculators & Tools." These do-it-yourself calculators allow consumers to get a glimpse into their financial future based on their age, goals and personal financial profile.
"Over two dozen calculators are right there at the consumer's fingertips," CEO Briggs continued, "and only two or three are annuity-specific."
That means consumers can go to the site to learn about their future pension payments, compare IRA options and more. And they can get that information without any sales pressure. Annuities, Briggs noted, are one of a handful of financial products which cannot be sold online. They can only be purchased face-to-face from licensed life insurance professionals.
This is why Annuities24-7.com is affiliated with hundreds of licensed insurance agents from coast to coast, who are very familiar with the many types of annuities available. If a consumer wishes, they can call in to talk about their personal finances or specific financial products. Annuities24-7.com will then refer the caller to one of the licensed professionals in this nationwide agent network.
"If the consumer feels comfortable discussing their unique situation with an annuity specialist," CEO Briggs continued, "we certainly can put them in contact with one."
But a lot of people who aren't annuity shopping will find there's a lot to learn about their financial future. And a good place to start is at Annuities24-7.com.
About Annuities24-7.com
Annuities24-7.com, Inc. is an independent annuities information and referral resource based in Farmington Hills, MI. The company's founder and CEO is Scott Briggs, a member of the Briggs family, a respected team of financial professionals who specialize in wealth management and asset preservation. Learn more by visiting annuities24-7.com.
For additional information, contact Lidia DeBruyn at (248) 987-2993 or via email at LDeBruyn(at)annuities24-7(dot)com.