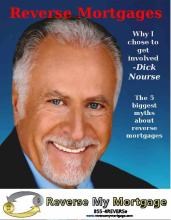 Salt Lake City, Utah (PRWEB) November 11, 2013
Upon entering retirement, seniors often find that their income doesn't provide the comfortable lifestyle they once enjoyed while working. Limited monetary supply often prohibits them from enjoying their retirement and results in more stress than relaxation. With the help of RMM, seniors are discovering new ways to supplement their income while staying in their home. A reverse mortgage in Utah comes with a variety of pros and cons; the information surrounding it often causes confusion and uncertainty. In an effort to assist their clients, RMM is introducing a new, downloadable guide on their website that outlines the procedures and guidelines associated with HECM loans in Salt Lake City.
The guide is easily found and downloaded on their site, resulting in no cost assistance for seniors who are looking into new options. It goes over all the qualifications and restrictions associated with reverse mortgages. Seniors applying for an HECM loan must be 62 years of age and own their own home. A reverse mortgage in Utah allows individuals to receive extra income annually or monthly, taken from the equity of their home. This eliminates their monthly mortgage payments and allows them to have supplemental retirement income. They are also still allowed to pass their home onto their children, making this an option many families can agree upon.
In addition, the no cost guide covers all the different rates and numbers associated with a reverse mortgage. RMM also provides an easy to use calculator on their website that can show people how much they can get monthly payments by using HECM loans in Salt Lake City. Individuals can calculate it with the rates and numbers found in the no cost guide, making the process simple and convenient. These tools assist seniors in making important monetary decisions for their retirement, allowing them to see the benefits and cons of what a reverse mortgage would entail.
RMM is known for their useful resources and determination to help seniors get a rewarding and enjoyable retirement. They offer online calculators and updated rate reports to provide convenient assistance to their customers. With a wide variety of tools, seniors can find all the information they need to make an educated decision. For more information, or to download the no cost guide, visit their website at http://www.reversemymortgage.com.