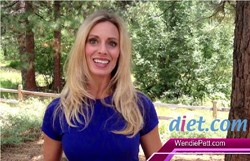 Learning to be Visibly Fit™ and understanding the importance that Your Body IS Your Gym™ gives you freedom to do workouts anywhere and anytime. - Wendie Pett, fitness expert
Brookline, MA (PRWEB) November 13, 2013
Diet.com, one of the web's leading resources for diet, fitness, and nutrition content and tools, has announced today their partnership with fitness and wellness expert Wendie Pett in launching a new video series.
The video series, launching on November 18 and hosted on Diet.com's popular DietHealth YouTube channel, will showcase Pett's "mind, body, spirit" approach to wellness, as well as give Diet.com viewers an exclusive discount to join in her new Visibly Fit™ in 84 Days challenge at a fraction of the cost.
Pett, the owner and CEO of Wendie Pett Enterprises, LLC, is a nationally recognized name in the wellness and fitness industry. She has a Doctrine in Natural Medicine and works as a fitness coach and consultant with individuals across the country. Her Visibly Fit™ program is a total wellness and bodyweight resistance plan, and Diet.com viewers will get a sneak peek into her health and fitness philosophies as part of the new video partnership.
As a bonus to the video series on YouTube, Diet.com viewers will have the opportunity to sign up for Pett's Visibly Fit™ in 84 Days challenge. Participants will receive daily tips right to their inbox for the duration of the 12-week challenge. Those signing up through the special Diet.com link will be able to participate in the challenge for $39.99 – a savings of over 50%.
Viewers of the DietHealth YouTube channel can expect the new video series to include simple and easy-to-do bodyweight exercises, motivational tips, and expert advice for getting your mind involved in your overall wellness program.
"We're thrilled to be able to showcase Wendie's positivity and wellness philosophies with our Diet.com viewers," says Bailey Apple, Diet.com's Marketing Manager. "She's got a wonderful energy, and her approach to total health through mindfulness is one that we hope our viewers find refreshing and unique."
"Learning to be Visibly Fit™ and understanding the importance that Your Body IS Your Gym™ gives you freedom to do workouts anywhere and anytime," Pett explains, a philosophy that essentially eliminates excuses for not having time to exercise. "By using mind/muscle connection and slow, controlled tension movements, you will shed fat fast while building, sculpting, and shaping lean muscle - all without ever compromising your joint, tendon or ligament health. It's truly a program that anyone of any age can benefit from greatly."
The video series will run for 3 months, launching on November 18th. Viewers who are interested in also joining Wendie's Visibly Fit™ in 84 Days challenge are encouraged to sign up on or before November 18th, to maximize the community participation of the Challenge. To sign up for the Visibly Fit™ in 84 Days challenge using the special Diet.com discount, follow this link.
There will also be an opportunity to sign up for the Challenge via a link in each of the videos within the series. Follow along with the Diet.com/Wendie Pett video series via the Diet.com YouTube channel, DietHealth.
About Diet.com
Diet.com is a multifaceted health and wellness organization that provides quality information and cutting edge tools and services to consumers and businesses alike. Since its founding, Diet.com has been a valuable online resource for dieters and those seeking information on living a healthy lifestyle. As one of the web's leading resources for diet, nutrition, and fitness content and tools, Diet.com has created a platform where consumers are able to set and track diet and fitness goals, browse over 1,000 healthy recipes, learn new exercises, and interact with others in the thriving Diet.com online community. The diethealth YouTube channel (http://www.youtube.com/diethealth) has a library of 600 videos, over 142,000 subscribers, and has received upwards of 107 million views. For any inquiries, please contact Bailey Apple, Marketing Manager, at BaileyA(at)diet(dot)com.