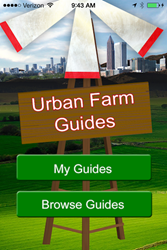 "My attitude has always been if I am going to plant, nurture, fertilize and grow a plant it better be edible!" says Peterson. "Hey food grows for free, we all need to learn how to grow it pesticide free and give it away."
Phoenix, Arizona (PRWEB) November 14, 2013
This week UrbanFarm.org released an innovative educational app for iPhone and iPad that will give users access to useful tips and easy-to-use guidelines for learning about urban farming. The app, called Urban Farm Guides, is free to download and provides various how-to guides ranging from free to $4.99. The Urban Farm Guides encompass a wide variety of urban farming-related topics.
Greg Peterson, owner of The Urban Farm, has been urban farming in his front and backyard in Phoenix, Ariz., for more than three decades. He has experience growing in all kinds of urban places from a spacious suburban backyard to a tiny townhouse. "My attitude has always been if I am going to plant, nurture, fertilize and grow a plant it better be edible!" says Peterson. "Hey food grows for free, we all need to learn how to grow it pesticide free and give it away."
Urban Farm Guides takes information on how to grow food and directs the reader to creating their own urban farm. According to Peterson becoming an urban farmer is easy. First grow food, and then share it with someone -- your family, neighbors, community. Finally, name your farm and begin creating a farming identity in your community.
Growing one's own food can seem like a challenging endeavor, but the Urban Farm Guides provide an easy-to-read source for quickly learning the ease and joy of growing food at your own home. Currently, the app has four how-to guides that include:

My Ordinary, Extraordinary Yard comes free with the download of the app and shares the story of how Peterson transformed his own front and back yard into a thriving edible paradise. It also touches on how he incorporated solar panels, greywater and rainwater into his landscape.
Fowl Play: Your Guide to Keeping Chickens in the City, by Rachel Bess, explains, in detail, how to keep chickens in an urban yard and shares the many reasons why they make a great addition to any household.
Basic Seed Saving by Bill McDorman, executive director of Native Seeds/SEARCH, offers step-by-step instructions for saving seeds from 18 different vegetables and 29 wildflowers, including everything from the beginner's basics to plants for advanced gardeners.
Grow Wherever You Go is a tool that enables readers to discover where their garden "lives," be it a box of herbs on the counter top, a fire-escape garden, or a complete edible landscape. This guide even shares the stories of others who have maximized their homes' potential as a source of inspiration for budding gardeners.
A variety of other fun and motivational Urban Farm How-To Guides are set to be released starting in January. Urban Farm Guides is now available for download in the App Store. Link Goes Here when it is available.
About Urban Farm
UrbanFarm.org is the home of a wide range of urban farming resources, education, tips and the 10,000 Urban Farms Project, which was created to discover a farm on every street. Founder Greg Peterson began gardening in Phoenix, Ariz. in 1975, discovered permaculture in 1991 and dubbed his personal residence in central Phoenix, The Urban Farm, in 2001. Peterson earned his Master's in Urban an Environmental Planning from Arizona State University in 2006. His long history of environmental learning and growing food in the city contributes to the success of UrbanFarm.org. Peterson wrote and published The Urban Farm Simple Sustainability Series, sits on the board of Native Seed/SEARCH and teaches the class Sustainable Food and Farms at Arizona State University. To find out more, visit http://www.UrbanFarm.org.