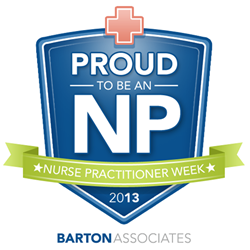 Boston, MA (PRWEB) November 12, 2013
Barton Associates, a leading national locum tenens agency, is excited to celebrate National Nurse Practitioner Week and acknowledge the important contributions nurse practitioners have made to the U.S. healthcare system. Each day during the week of November 11, 2013, Barton Associates will post original NP content to its blog, Facebook, Twitter, Google+, and LinkedIn pages including graphics, videos, articles, resources, and more.
Barton Associates will also randomly select an NP who "shared" or "liked" each day's NP Week item to receive a prize package that includes a $100 Visa Gift Card!
The locum tenens staffing experts at Barton Associates work with talented and dedicated NPs every day, and they see the growing demand for NP services firsthand. In 2013, Barton Associates again saw an increase in the number of healthcare organizations requesting locum tenens NPs in both primary care and other medical specialties.
The number of practicing NPs continues to rise each year. There are currently 171,000 NPs practicing in the United States, which represents a 10% increase over the past year. With the Affordable Care Act (ACA) expected to further exacerbate the physician shortage and an increased focus on preventable care, NPs are expected to play an increasing role in the healthcare industry. Across the nation, healthcare organizations and private companies are hiring NPs to practice in a variety of settings, including hospitals, traditional medical clinics, home health, retail clinics, corporate wellness programs, onsite clinics, and many more
Barton Associates will further detail the emerging NP employment trends in a free webinar titled New and Exciting Opportunities for Nurse Practitioners that is scheduled for Thursday November, 21 at 1PM EST. During the program Erin Tolbert, MidlevelU's founder and certified Family Nurse Practitioner, will explain the key healthcare industry trends that make it an exciting time to be an NP.
Barton Associates is proud to be a resource for locum tenens NPs as well as the companies, healthcare organizations, and practices that rely on them.
To learn more about Barton Associates locum tenens staffing solutions, please visit http://www.bartonassociates.com.