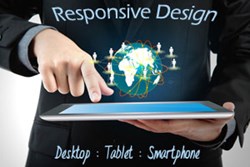 I would thoroughly recommend working with In Front Media on any website development. I. Mehmeti
Markham Ontario (PRWEB) November 12, 2013
Whether the internet user is sitting behind a desktop computer, lying on the couch using a tablet or sitting in a downtown café searching the Internet with a smart phone, responsive website design adjusts web pages to fit to the target Internet device being used.
Len Doren, Creative Director of IFM Web services offers, "Today, it doesn't matter what device people are using to access the Internet. Responsive website design makes a website look good on most, if not all Internet devices used today."
Making websites render for mobile devices, like smart phones, is becoming increasingly important. A recent survey by Google indicated "48% of respondents said that if a site didn't work well on their smartphones, it made them feel like the company didn't care about them." And, this reasoning can result in lost revenue for any business.
To help business owners maintain positive online branding, here are IFM's 5 Top reasons why Responsive Design should be at the top-of-the-list when considering a redesign of the company website.
1) A Better User Experience
It is becoming more important of late to offer a good mobile website experience. Why? Because users will continue to look for a mobile-friendly site until one is found that works on the users internet device. According to Google, when the user experience is "favorable", almost 70% of users are more inclined purchase a company's products or services.
2) Easy Site-updates and Management:
Having to build a separate mobile site can be difficult to manage in terms of updates and additional features to install, not to mention the extra cost. When an update is required to the main site, the mobile site has to be updated as well. With responsive design, only one site requires updating, saving time and money for business owners.
3) One Website for All Devices:
Imagine having to create and manage a regular website and a mobile website. It's more costly and time consuming to manage two websites. Not to mention having to make sure the mobile site is not creating "duplicate content issues" when it comes to search engines. With responsive design, there is only one website, and it will render well for users of desktops, laptops, tablets and smartphones.
4) Improve The Company Reputation:
What should be alarming to business owners is that almost 50% of mobile phone users say they feel annoyed and even frustrated when viewing a site that Is not mobile-friendly. Responsive design tackles this extremely important aspect ensuring a positive user experience which can result in a company's reputation being enhanced, not tarnished.
5) Mobile Users Use Local Businesses:
Almost 70% of respondents of the Google study indicated use of a smart phone when looking up local businesses to make a purchase or order a service. With Responsive design, users can even click on a phone number on the web page they are viewing and make a direct call to that business.
As far as Responsive Design goes, IFM suggests business owners talk to a local developer about their existing website and how Resposive Design can enhance the company's online reputation and increase sales as well.
IFM Web Services offers Responsive Web Design, website analysis, SEO Press releases, Search Optimization and Facebook pages for businesses. Located in the Toronto area (GTA), IFM has helped business achieve an effective online presence and has helped clients as far away as Bermuda and Mexico. For more on Social Media, SEO or Web Design for businesses, visit IFM at http://www.ifm.ca.