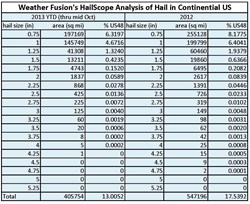 Norman, OK (PRWEB) November 13, 2013
Weather Fusion LLC, provider of weather verification solutions for the insurance and construction industries, reported today that the 2013 hail season has been one of the lowest hail seasons on recent record, based on the HailScope™ technology which analyzes hailfall across the entire continental United States. As part of the research to examine 2013 hail statistics, Weather Fusion is releasing unique 2006 through 2013 hail figures on the US geographic "footprint" that experienced hail (in quarter inch increments), by year. For 2006-2013 hail statistics, please visit: https://www.weatherfusion.com/science/publications
After two significant years of hail losses in 2011 and 2012, claims and related expenses for hail during 2013 (through mid-October) are down due to substantially lower hailfall, particularly of larger hailstone sizes. Through October 11, the 2013 hail season has produced hail over just 13% of the continental US, a 26% decrease from 2012 (17.5% affected) and a 24% decrease from 2011 (17% affected). Additionally, in 2013, fewer areas were affected by large and very large hailstones, with just 0.27% of the Lower 48 incurring hail of 1.75" to 5.25". This is a 29% decrease from 2012 (0.38% affected) and a startling 59% decrease from 2011 (0.66% affected).
"Using HailScope, we can map the areal extent of hail paths over the entire continental US, yielding a highly accurate picture of the affected regions. Many statistics available to the insurance industry are based on randomly-submitted human observations from the National Weather Service (NWS) that can't accurately depict which areas were affected," said Donald Giuliano, CEO of Weather Fusion. "HailScope accurately analyzes hailfall in quarter inch increments over the entire country, no matter the terrain, population, or time of day."
Giuliano added, "These hail statistics show the geographical footprint of the US affected by hail. A 59% decrease in the geographical footprint of the most severe hail from 2011 - 2013 explains why claim volumes have dropped so dramatically for insurance carriers and adjusters during that time. These data also tell us we should not grow complacent, as a return to a larger hail footprint in the future would likely lead to a corresponding increase in claim volumes."
While most adjusters are putting away their CougarPaws™ for the season, Mother Nature can inflict large hail events into the fall months. Many industry professionals remember the Columbus, Ohio hailstorm from October 4, 2006 which generated over $250 million dollars in losses and the notable and highly unusual October 5, 2010 hailstorm that hit the Phoenix, Arizona area, causing over $2.7 billion dollars in damage.
Cougar Paws is a trademark of Cougar Paws, Inc. Martinsville, VA. Used with permission.
About Weather Fusion
Weather Fusion focuses exclusively on providing innovative weather verification services. The insurance and construction industries rely on Weather Fusion's HailScope™ technology as the standard to inform their decision-makers regarding severe hail storms, both past and present. Weather Fusion is currently developing new technologies and product solutions for hail and other weather perils. Please visit: http://www.weatherfusion.com
Media Contact:
Nicole Giuliano
Weather Fusion LLC
Vice President, Operations
405-217-0133
nicole(dot)giuliano(at)weatherfusion(dot)com