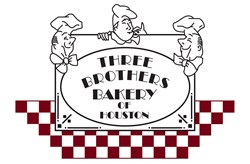 We are honored to be working with an organization like the Woodworkers Club of Houston. - Robert Jucker
Houston, TX (PRWEB) November 12, 2013
Three Brothers Bakery is excited to announce it will be offering traditional wooden pie boxes, each of which will be individually handcrafted through its partnership with the Woodworkers Club of Houston. A percentage of the proceeds from these boxes will help the club build wooden toys for disadvantaged children. These new boxes, housing the bakery's award-winning pies, will ensure an even more meaningful delivery and holiday gift personalization, thanks to laser-etched messages or logos.
The Woodworkers Club of Houston's seasonal charity program "2 Xs Toys," makes wooden toys for disadvantaged children during the holiday season. Last year, volunteers came together for 2,000 hours to assemble nearly 5,000 toys for agencies working to support children in need. The toys are made primarily from salvaged 2-inch by 4-inch and 2-inch by 6-inch sections of wood, inspiring the name, "2 Xs Toys."
Three Brothers Bakery will contribute $1 to the organization for each pie box purchased. This donation will, in turn, support the Woodworks Club, its "2 Xs Toys" program and its charitable efforts. Additionally, Three Brothers Bakery is working with club members to identify a renewable source of materials to ensure a continued opportunity for the club and its future. This partnership will truly provide gifts that keep on giving.
"Three Brothers Bakery is beloved within the Houston community, and they are incredible at giving back, particularly around the holidays," says Andy Anderson, former Woodworkers Club president and coordinator of 2 Xs Toys. "Working with the Jucker family on this pie box project means we can bring toys and a little holiday magic to more and more deserving Houston children."
Every variation of the bakery's pies will be available to purchase in the new wooden gift box, online and in stores. In addition to its award-winning pecan pie, the bakery is also known for its chocolate fudge pecan pie, ten-inch deep-dish pecan and chocolate pecan pies.
"We are honored to be working with an organization like the Woodworkers Club of Houston," says Bobby Jucker, fifth generation baker and bakery co-owner. "These talented artists are touching the lives of so many Houston children and giving them a holiday to remember, and we hope to help them grow their operation through the sale of our pies, so they can continue to bring joy to so many."
Perfect for corporate and individual orders, the new pie boxes at Three Brothers Bakery add a charming, personal touch, as each box can be laser branded in-house at the bakery, allowing customers to personalize their boxes with logos, messages or images.
For more information regarding Three Brothers Bakery, its pies, its new and improved pie boxes or the bakery's work with the Woodworker's Club of Houston, please contact Allison Huseman at 713-225-0880 or allison(at)integratepr(dot)com.
About Three Brothers Bakery
The traditions of Three Brothers Bakery began in Chrzanow, Poland circa 1825, and were preserved despite the family's concentration camp imprisonment during the Holocaust. Their miraculous liberation, and subsequent move to Houston, brought Eastern European scratch baking traditions to 4036 S. Braeswood Blvd and 12393 Kingsride Lane, where the owners are now proud to call themselves "memory makers who just happen to be bakers." Perfecting the process for almost 200 years, each day the fifth generation bakers produce mostly dairy-free breads and pastries, cookies, a full line of specialty dessert cakes and pies, as well as custom birthday, special occasion, wedding and groom's cakes using only the highest quality ingredients.
The Three Brothers Bakery pecan pie was named "the best mail order pecan pie America has to offer" by Country Living magazine, and most recently, bakery owner, Bobby Jucker competed in the popular 'Food Network Challenge' and has been seen on Food Network's Outrageous Food. Three Brothers won "1st Place Cupcake 2012" from Retail Bakers of America as well as "Best Mail-Order Pies 2012" from Bon Apetit. The bakery also won Modern Baking's "2013 Retail Bakery of the Year" and was part of The Knot's "2010-2013 Best of Weddings" and "Hall of Fame" picks. Three Brothers Bakery is a certified Woman-Owned Business through the Women's Business Enterprise National Council, and a State of Texas Historically Underutilized Business.
Follow Three Brothers Bakery on Facebook and Twitter for Houston area news, information and events.