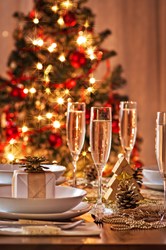 The Georgian Resort is a great choice to celebrate Thanksgiving, the Holidays and New Year's Eve!
Lake George, New York (PRWEB) November 13, 2013
The holidays are fast approaching and the Georgian Lakeside Resort in Lake George is a great choice to celebrate with family and friends. Thanksgiving is Thursday, November 28, and the Georgian serves a spectacular Thanksgiving buffet dinner in our Terrace Ballroom overlooking Lake George. Thanksgiving dinner service begins at 11:30AM and the last seating is at 4:00PM. Some menu highlights include sliced roast turkey with sausage and sage stuffing, baked whitefish, roast prime rib of beef, honey ham, and a wide assortment of salads, vegetable dishes, and a dessert table. Enjoy live holiday music with Chuck Kelsey. Thanksgiving is also the traditional start to ski season and the holiday shopping season. Stay for the weekend and enjoy some early season skiing at nearby Gore Mt. or shopping at the nearby outlet shopping centers in Lake George. See the Georgian Thanksgiving Dinner and Accommodations packages here.
The Georgian Resort host numerous holiday parties, dinners and luncheons. For smaller groups, join the Small Parties Night at The Georgian on Saturday, December 14th. Small Parties Night is a night where smaller companies, clubs and organizations come together for one big holiday celebration! Bring your employees and associates and let the Georgian handle the details for this year's holiday celebration. No group is too small. Enjoy a cocktail hour from 6-7PM with Hors d'oeuvres, then a buffet dinner, and entertainment 'till 11PM with LA Sound Production DJ & Karaoke.
Saving the best for last - ring out the old year and celebrate New Year's Eve in style with the area's best celebration at The Georgian Resort. This year the New Year's Eve Celebration will have a Mardi Gras theme with hats, masks, beads and noisemakers. Music is by The Out Of Control Rhythm & Blues Band. Ring in the New Year – 2014. Enjoy Fantastic Food, Rockin' Good Music and The Terrace Ballroom decked out for a Mardi Gras Party. Don't Miss A Night To Remember, And, you don't have to drive home with Room Packages – from $365/couple. Visit the Georgian New Year's Page for additional information or call 800-LAKE-GEORGE.