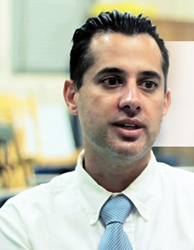 Technology has a unique opportunity to alter the entire dynamic of teaching in special education for the better.
(PRWEB) November 13, 2013
Dr. Rod Berger, host of Core of Education and editor for EdTechReview.in, sits down with special education teacher, Neil Virani in a new Core of Education podcast. AVer Information U.S.A's Director of Public Relations, Kris Rangarajan, also joins the discussion and shares the impact AVer's technology has had on the teaching profession and future efforts to support educators like Neil Virani.
Virani speaks to his work teaching special education classes in the Los Angeles Unified School District (LAUSD), and how the integration of technology is changing both the way he teaches, and the way his students learn. Neil shares a touching story about a young man with cerebral palsy and the life-changing impact the iPad has had on his ability to communicate. We also focus on the use of Aver's TabCam and how it has freed Neil to engage with his students away from his desk.
AVer is a provider of visual collaboration solutions that improve productivity and enrich lives. From increasing competitive advantage for businesses to accelerating learning in the classroom, AVer solutions leverage the power of visual communications to help people connect with one another to achieve great things. Their product portfolio includes HD video conferencing, video surveillance, document cameras as well as iPad/Tablet sync carts and streaming devices.
"Technology has a unique opportunity to alter the entire dynamic of teaching in special education for the better," said Dr. Berger. He continued, "It's inspiring, hearing stories like Neil's, about real improvements that technology is making in special education for children and communities."
Look for more profiles highlighting education technology and the special needs sector as we continue profiling an often marginalized group of amazing human beings. To find out more about AVer visit them on their website and to engage with Neil Virani follow him on Twitter.
---
About Core of Education
The Core of Education is an op-ed blog and podcast interview series hosted by Rod Berger, PsyD, and underwritten by RANDA Solutions. The Core focuses on vital issues to educators and policy-makers, as Dr. Berger interviews key education thought-leaders from across the nation and around the world. Core podcasts work to provide a platform for open, honest discussion and debate on education challenges and triumphs. Berger, interviews international policy makers, ed entrepreneurs, state commissioners, district admins, and teachers and strives to insure everyone involved has a platform to learn, and that's what's at the "core of education."