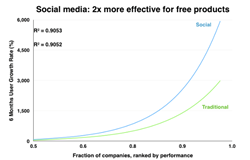 San Francisco, CA (PRWEB) November 12, 2013
Compass, creator of Compass.co — one of the first websites in the world to benchmark success metrics for small and mid-size technology businesses — announces social media is far more effective for growing free products than paid.
After only ten years, social media has a huge global penetration, allowing businesses to reach nearly 2 billion people, practically the entire online population, through just a few platforms.
Naturally, there is a lot of hype. The question is whether the hype is deserved.
To allow leaders to make more effective, data-driven decisions, the team at Compass decided to analyze how important social media really is as a growth engine for businesses. From the active user base of 30,000 businesses, they found that about 30% of technology companies, rely primarily on social media to acquire customers with a growing trend.
The most significant findings came down to business type:
1. For free products, social media is 2x more effective than traditional marketing methods. In the Compass sample, 38% of companies with free products (monetized indirectly), use social media as their primary acquisition channel.
2. For paid products, traditional marketing is 10% more effective. Only 29% of directly monetized companies rely primarily on social, favoring more traditional methods such as direct sales, partnerships and affiliate marketing, that led to greater success.
"We wanted to provide quantifiable answers to resolve the endless circular debate about the impact social media," said Compass.co CEO Bjoern Lasse Herrmann. "So we began with the core business problem of a software CEO trying to craft a go-to-market strategy or decide whether to hire a traditional or social-focused VP of Marketing. We found that while there are certainly brand and informational benefits to social media, its suitability as a primary channel to drive user growth depends entirely on your business model."
"Finally someone is applying data to the myth of social commerce," says Lutz Finger, Director of Fisheye Analytics and author of the forthcoming book Ask-Measure-Learn, a book on social media decision-making to be published by O'Reilly Media in January 2014. "Social media is great for creating awareness or reach, but awareness is not intention. Because I know about a product, does not mean I intend to buy it. To make customers purchase still requires more than pure attention."
For the complete findings and analysis detail, please see the full blog post.
To benchmark your own business against relevant peers, visit Compass.co.
About Compass
Compass, (previously The Startup Genome and StartupCompass), headquartered in San Francisco, CA, is the creator of Compass.co, with more than 30,000 active companies, as well as the author of the reports The Startup Genome Report, The Startup Ecosystem Report and The Startup Genome Report on Why Startups Fail and Premature Scaling among others, which have been downloaded more than 100,000 times, added to the curriculum of more than 100 universities, referenced by the Obama Administration and Chancellor Merkel and used by dozens of consulting firms and startup accelerators.