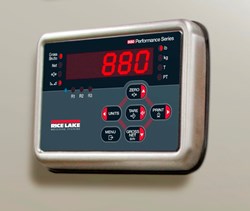 Rice Lake, WI (PRWEB) November 11, 2013
Rice Lake Weighing Systems announces the launch of its newest weight indicator, the 880 Performance Series, a compact digital weight display and controller for mounting within larger control panels and DIN-rail applications.
OEMs and users from a wide range of industries will appreciate the 880's compact, modular design. A smaller, removable indicator face and overall depth of just over four inches make the 880 one of the most compact full-size controllers on the market.
Adding to the 880's versatility, it also adapts to a broad spectrum of technologies, whether they require USB, RS-232, or standard Ethernet connection. The 880 can operate as a standalone controller, but also connects to a wide range of industrial networking protocols for PLCs. For more information about this innovative new design from Rice Lake, visit http://www.ricelake.com/880.
Rice Lake Weighing Systems is a family-owned, ISO 9001 certified corporation based in the United States. Headquarters, metrology laboratory and main manufacturing plant are located in Rice Lake, Wisconsin with support facilities throughout the world including North America, South America, India and the Netherlands.