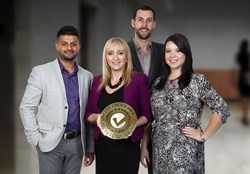 The fact that it was decided by the people makes it even more special.
Toronto, Ontario (PRWEB) November 13, 2013
Slimband is the top weight loss clinic in the Greater Toronto Area. That's according to local residents who handed the company the honour—known as the Top Choice Award—in a live vote that was held through the web and on social media.
Slimband competed in a field containing some of the most respected names in the weight loss business, and it won by a large margin; the company's final vote tally was nearly 72% higher than its closest competitor. Members of the Slimband team accepted the award on October 22.
Top Choice helps GTA consumers zero in on high-quality products and services, saving them hours of research and ensuring they're making the best possible choice.
To even qualify, businesses must receive 25 nominations. Top Choice then puts the qualifying businesses through a rigorous verification process, which may include reviewing them as an "undercover consumer." Only after passing this test do the competitors face off in a battle for public opinion.
"We're honoured and humbled to receive the Top Choice Award," said Lisa Borg, Slimband's chief operating officer. "The fact that it was decided by the people makes it even more special. I'd like to thank our patients for putting their faith in us, as well as our staff, who work hard every day with the singular goal of helping people live happier, healthier lives. This award is proof positive that the public recognizes these efforts."
About Slimband
Slimband is North America's premier weight loss group, specializing in reversible laparoscopic weight loss surgery with a unique 5-year aftercare program that includes nutritional counseling and coaching. Clients benefit from safe, long-lasting weight loss, increased energy levels and, in many cases, the control or elimination of weight-aggravated conditions like sleep apnea and type 2 diabetes. Slimband has helped more than 7,000 patients realize their dreams of losing excess weight and feeling their best.
For more information, please contact:
Bentzi Belfon, Marketing Communications
Slimband Inc.
(416) 482-2033, ext. 0075
bentzi(at)slimband(dot)com