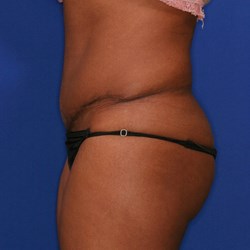 Newport Beach, CA. (PRWEB) November 12, 2013
When patients seek out having a tummy tuck in Orange County, CA. the obvious common goal is to have an attractive flat stomach and flat incision that can be hidden with clothing. Unfortunately, most plastic surgeons fear performing a tummy tuck with liposuction, which is what is needed to obtain these desired results.
"It's imperative that I provide my tummy tuck patients with the best results in one surgery whenever possible, therefore I have developed a way to combine liposuction with my tummy tucks to achieve this," states Dr. Cruise.
For more information, please visit: http://orangecountycosmeticsurgery.com/abdominoplasty.
Traditional plastic surgery feels that performing liposuction at the same time as a tummy tuck is too dangerous. A tummy tuck involves elevating a large amount of abdominal skin. This skin is reliant on the blood supply feeding it from above. Liposuction with a tummy tuck is felt to be too traumatic on these blood vessels and, therefore, would cut off blood supply to the abdominal skin creating significant would healing issues.
The major downside to not performing liposuction with a tummy tuck is that it creates an unacceptably poor result. Not removing fat creates a dramatic step off in the skin thickness right at the incision. In addition, the remaining fat stands in the way of creating an attractive flat stomach. Patients often times complain that it looks like they have a "beer belly." The discrepancy at the incision only enhances this, because the abdomen is forced to hang over it. One solution is to offer patients the option of having liposuction done as a follow up surgery to their tummy tuck, but who really wants two surgeries?
After spending a great deal of time in the anatomy lab, Dr. Joseph T. Cruise has developed a safe and effective method for removing the excess skin of the upper flap without damaging the important blood vessels whatsoever. These critical blood vessels are located in the upper half of the abdominal fat closest to the skin. Dr. Cruise completely avoids this area by cutting, not liposuctioning, the deeper fat away from this area. This allows for a precise and methodical approach to addressing the abdominal fat without compromising blood supply.
Cutting the fat has evolved into the ideal method for several reasons:
1) Safety - blood vessels are spared.
2) Ability to remove more fat - most of the fat is located in this deep layer, therefore more can be removed.
3) Fat is removed in an even fashion. This leaves a predictably smooth skin surface without divots.
4) Beveling the fat margins eliminates the traditional step off more effectively than liposuction.
5) Cutting the fat reduces trauma compared to that seen with liposuction.
About Cruise Plastic Surgery:
Cruise Plastic Surgery, located in Newport Beach, Orange County, California, is one of the top plastic surgery practices in the Southern California region. The director, Dr. Joseph T. Cruise, is a fully trained, board-certified plastic surgeon specializing in facelift, breast augmentation, tummy tuck and other cosmetic surgery procedures. Dr. Cruise is also one of the region's best known surgeons for rhinoplasty (nose surgery), neck lift surgery and gynecomastia. His dedication and focus is clearly evident in the comprehensive educationally based web site he manages and the concierge-like customer service his patients receive from the entire office. Experience and predictably good results have earned him the distinction of being one of the best plastic surgeons in Orange County.