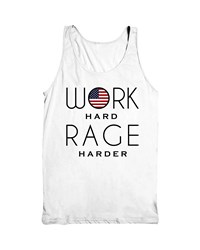 All I can tell you now is that there are more exciting things to come.
Washington, D.C. (PRWEB) November 13, 2013
Following the success of their latest clothing line launch, rave apparel and clothing company Basswimmer has released their latest line of "Work Hard Rage Harder" designs. The rave gear company based out of the Washington D.C. metro area will now offer a wider variety of designs featuring the American flag and flag logos from both Washington D.C. and California.
Their latest line follows their incredibly successful launch in August that featured over twenty new designs, products, and new website. The rave apparel company has always valued the feedback of their customers and routinely converses with them through their social channels. Since August, the Basswimmer team asked customers what they wanted to see next and the response was more variations of their well known "Work Hard Rage Harder" designs.
"It's important for us to have open conversations with our customers and what they want from our brand," says Basswimmer's Director of Marketing, Bryan Sartory. "Basswimmer was created for a creative generation so it only makes sense that our designs speak to their creative needs."
The new designs feature the American, California, and Washington D.C. flags within the "Work Hard Rage Harder" logo. An overwhelming response was received from those areas but the company plans on debuting different state variations over the next few months. In addition to the new line, Basswimmer also offers rave products from internationally reknowned rave company, Orbit Light Show. Basswimmer CEO Andres Garcia says Orbit Light Show's products are the perfect complement to his company's attire.
Looking ahead, Basswimmer plans on expanding its line beyond just rave gear. "Our customers always ask us when we're going to debut a new line of clothing featuring styles beyond the EDM scene." states Garcia. "Well we listened and all I can tell you now is there are even more exciting things to come."
The new designs can be purchased on either t-shirts, tank tops, or crop tops and are available now through the company's website. Basswimmer also encourages people to connect with them through all of their social channels in order to provide a more personal experience.
About Basswimmer:
Basswimmer is an Electronic Dance Music and rave apparel company based out of Washington, D.C. It was founded by 3 long-time friends in early 2013 with the purpose of providing clothing to the ever growing Electronic Dance Music culture in North America. They currently produce and sell t-shirts, tank tops, light show equipment and other accessories through their online retail store. Basswimmer's motto, "Work Hard, Rage Harder" embodies their lifestyles as workaholics by day and revelers by night.