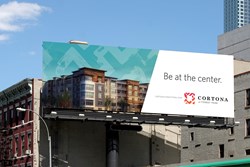 Atomicdust's concept for Cortona is summed up in the complex's new tagline: 'Be at the center.'
St. Louis, Mo. (PRWEB) November 12, 2013
With help from St. Louis marketing and design agency Atomicdust, developer Balke Brown Transwestern has debuted branding and a new website for Cortona at Forest Park, the new residential building currently under construction at the Highlands site.
Atomicdust was hired in May 2013 to create a visual identity and web presence for Cortona that would generate interest among young St. Louis professionals.
"From the start, our goal was to distance the development from luxury apartment building clichés," said Mike Spakowski, creative director for Atomicdust.
Early on, the agency recognized that the new building was designed to draw residents out of their apartments and into open, public spaces, including a central courtyard, clubhouse and trilevel pool.
"Showing people how Cortona's design supports a more social residential community was just one piece of the puzzle," said Spakowski. "We wanted to find a fresh way to show how its location puts people right in the middle of St. Louis nightlife and recreation."
Atomicdust's concept for Cortona is summed up in the complex's new tagline: "Be at the center." The new logo reflects this concept, as well as the complex's literal shape. Variations within the logo family use fashion-inspired patterns and bold colors to appeal to the young professional demographic.
Each page of the complex's new website defines what "life at the center" looks like, and how visitors can experience it for themselves. Embedded social accounts and a colorful, oversized calendar connect current and prospective residents with the best of St. Louis: happy hours, parties, film festivals, restaurants and more.
Visit cortonaforestpark.com for more information.
About Atomicdust
Atomicdust is a branding and marketing agency that helps clients find focus through identity strategy, design, websites, social media and more.