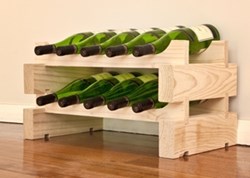 As the number of wine-making businesses continues to grow, consumers are presented with more choices, meaning bottles are competing extra hard for attention. A wine label that's bold and original is more likely to catch shoppers' eyes.
Denver, CO (PRWEB) November 12, 2013
Lightning Labels, leader in printing custom labels and stickers, is shedding light on how wine label printing can help vintners of all kinds boost sales. From boutique wineries to wine producers operating on much grander scales, more businesses are entering the wine industry, increasing competition across the board. No matter what their wines' prices are, many vintners are finding that attractive and unique bottle labels are key to bringing in new customers. Custom wine label printing from the experts at Lightning Labels can help winemakers of all kinds create bottle labels that stand out on store shelves.
"In 2012, the wine industry was valued at $34.6 billion by The Wine Institute, a 2-percent increase from the previous year," said Julie McCulley, Lightning Labels' Production Manager. "As the number of wine-making businesses continues to grow, consumers are presented with more choices, meaning bottles are competing extra hard for attention in supermarkets, wine shops and other stores. A wine label that's bold and original is more likely to catch shoppers' eyes. Lightning Labels' state of the art printing process can create appealing, professional labels that get the attention unique wines deserve."
Two Tips for Creating Wine Labels to Attract Consumers and Keep Them Interested:
With so many different wines on the market, connoisseurs and novices alike are likely to be enticed by wine labels that truly stand out from other packaging on the wine bottles they encounter. Here are two tips for printing custom wine labels:
1. Know the Target Consumer: Understanding the brand's ideal audience is key to creating wine labels that sell. With the right market research, winemakers can determine what matters most to their target customer, whether it's a fair price, the vintage, awards or other production information. With this important insight, vintners can better determine what shoppers will respond to. This has proven an especially strong tactic for makers of affordable wines, many of which have seen sales rise as the result of well-targeted labels.
2. Utilize an Industry-Leading Label Printer: The right custom label design will attract consumers, but only if it's printed on durable materials with advanced technology. Lightning Labels has a variety of materials for custom wine labels that are as strong as they are attractive. Additionally, Lightning Labels' printing capabilities ensure quality outcomes: high-resolution images and graphics placed on wine labels appear clearly, bold colors are captured and text of all sizes is legible and distinct.
Personalized Wine Labels Benefit from Custom Printing:
The ability to partner with a label-printing expert isn't limited to winemakers. Event hosts looking to add a special touch to weddings, corporate events and other special gatherings can use personalized wine labels to embellish whites, reds, rosés, even champagnes or non-alcoholic sparkling ciders served during meals and receptions. Lightning Labels' printing solutions can accommodate all bottle label design needs for an affordable price. Orders of all sizes are economical, making custom wine labels a smart choice for party planners of all kinds.
In anticipation of the Thanksgiving holiday, Lightning Labels will offer 15 percent off new label orders from November 14, 2013 through November 25, 2013, using promo code FEAST15 at checkout. The maximum discount is $1,000. Free ground shipping applies to regularly priced orders shipped only within the U.S. and Canada. This offer cannot be combined with any other offers or promotion. Visit Lightning Labels for more information or updated promotions.
About Lightning Labels:
Lightning Labels uses state-of-the-art printing technology to provide affordable, full-color custom labels and custom stickers of all shapes and sizes, and now offers a full line of custom packaging products. From small orders for individuals, to the bulk needs of big businesses, Lightning Labels is equipped to handle and fulfill sticker, label and product packaging projects of all types. Best of all, like the name implies, Lightning Labels provides a quick turnaround to every customers' labeling and product packaging needs. Uses for Lightning Labels' custom product labels and custom stickers include food packaging and organic food labels, wine and beverage labels, bath and body labels, and nutraceutical products, such as vitamins, essentials oils, and herbal remedies, as well as event stickers, adhesive window stickers and more. Lightning Labels strongly supports the development of environmentally friendly printing materials and carries EarthFirst PLA, a new kind of green label material made from corn instead of petroleum. While operating as a high-tech printer, Lighting Labels prides itself on its personalized customer service. Lightning Labels provides one stop shopping for all of your label and product packaging needs. For more information and to place orders online, visit LightningLabels.com. For the latest in packaging news and labeling promotional offers, find Lightning Labels on Pinterest, Twitter (@LightningLabels), Facebook, Google+ and LinkedIn.