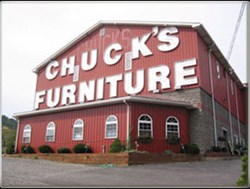 "Time is money. Buy locally, even if it's more expensive. Trust me, it's worth it." -Anonymous online retailer from Consumerist
Morgantown, WV (PRWEB) November 11, 2013
Shopping for furniture has traditionally been a local affair. For most people, it still is. Customers want to see and feel the product when it comes to home furnishings. While other industries have been utilizing online sales for a while, the furniture industry has only recently begun a big push in that direction. Because of this, it is one of the fastest growing online industries. Even people that don't buy online often research a product and compare prices before they buy in store. This has lead to increased competition for local businesses and left many consumers ill informed about what they are comparing. James Prutilpac of Chuck's Furniture is here to explain a few of the most common problems he has experienced with online retailers.
Here's what James has to say:
Shipping: "One of the most common thing we get compared on is shipping. Many online companies offer free shipping. However, it is rarely the same delivery service that brick and mortar stores offer. When we deliver furniture, it is in place, fully assembled where the consumer wants it. Many online retailers are offering free freight delivery. This usually means to the first "dry" area like a a garage or a porch. I've seen it be as simple as curbside only where the customer is responsible for unloading it from the truck. It's Hardly comparable to our service. When most online stores do offer full service delivery, it's typically 2-3 times the price of ours.
Damaged Merchandise: "Another issue that I've seen arise from online shipping is damage. According to an anonymous online retail employee, 40% of freight arrives damaged. Recently, a woman came into our store distraught. She had purchased something online and it was damaged once she got it opened. The driver had rushed her to sign because he was behind schedule and the box looked fine on the outside. Because she signed the paperwork, the company refused to take care of her. All of our deliveries will be brought into your house and opened so you can inspect it before we leave."
Misrepresented product: "Of of the worst parts of online retailing is the way they represent some products. Leather is one of the most problematic. With the rise of bonded leather, many companies feel free to list a material as simply "leather" even if it contains less than 20% hide and none on the surface of the upholstery. This type of leather feels, looks, and ages differently than real leather. It can easily mislead customers to think they are getting something of comparable quality at a much lower cost online. We just had an extreme example of this. A customer saw a recliner in our store that he saw online. Our price was higher and we couldn't match it. Once I found it online, I discovered the problem. For the upholstery, they simply listed "leather options" when the material was actually a vinyl. There was no leather content in it at all. The customer bought from us and was very happy. Most customers would never know they were mislead until it was delivered. It took our company to explain another companies product."
As online retailing continues, consumers need to be ever vigilant about having the right knowledge to get the best deal. Chuck's Furniture serves the north central West Virginia area as well as south west Pennsylvania and western Maryland.