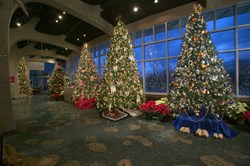 'Many cultures use similar palettes of natural materials to decorate and celebrate the holidays,' said Dir. of Horticulture, Steve LaWarre. 'Seeds, wood, fruit and natural fibers can be found woven throughout the exhibition.'
Grand Rapids, Mich. (PRWEB) November 12, 2013
Experience the magic of the holidays at Frederik Meijer Gardens & Sculpture Park with the annual "Christmas and Holiday Traditions Around the World" exhibition on display November 26 through January 5, 2014. Visitors from all over the nation visit Meijer Gardens to experience over 40 international trees and displays, the enchanting Railway Garden and holiday wonderland that encompasses it.
Celebrating its 19th year, this year's exhibition focuses on the use of natural materials for an experience only Meijer Gardens can create.
"Many cultures use similar palettes of natural materials to decorate and celebrate the holidays," said Director of Horticulture, Steve LaWarre. "Seeds, wood, fruit and natural fibers can be found woven throughout different displays and decorated trees, within the Railway Garden and throughout the entire exhibition."
The much-loved Railway Garden meanders through four lush indoor garden spaces, bringing together colorful plantings with storybook scenes. The unique horticultural artistry complements the model trolleys, trains and handcrafted buildings replicating over 30 Grand Rapids landmarks, designed by Paul Busse. Visitors will find familiarity in the Fifth Third Ballpark created with willow light posts and elm bark seating, the Ada Covered Bridge with a cedar roof and willow trusses and the Meyer May House with oak bark siding and red ruscus leaves.
Debuting this year is the Korean hanbok, the traditional dress worn during Seollal, the Korean New Year and most significant holiday recognized by Korean families. With its strikingly vibrant natural silk and intricate detailing, this garment is the centerpiece in a redesigned display, which honors the historic Korean culture.
Mainstays of the exhibition include the Germany tree, adorned with handmade glass ornaments and homemade springerle cookies, the England tree—with antique Christmas cards and mistletoe—and the beautiful Eid al-Fitr display, which celebrates the end of Ramadan.
Meijer Gardens transforms into a botanic wonderland with poinsettias, orchids and amaryllis. Horse-drawn carriage rides through the candle-lit Sculpture Park, the smell of evergreens as visitors enter the building and the sounds of carolers and hand bells make it a festive place to enjoy the holiday season.
A variety of family-friendly activities are offered throughout the exhibition.
Exhibition Activities

Extended Holiday Hours: Open until 9 p.m. on December 17-21, 23-24, 26-28, 30-31 (Please note: Meijer Gardens is closed on November 28, December 25 and January 1 and will close at 5 p.m. on December 24 and 31)
Horse-Drawn Carriage Rides: December 3, 10, 17-22, 5:30-9 p.m.
Reservations required, call 616-975-3151. Members $65 per carriage, non-members $90 per carriage (up to four adults). A $25 fee will apply for all cancellations and rescheduling.

The Original Dickens Carolers: Tuesdays, November 26, December 3, 10, 17, 6-8 p.m.
Santa Visits: Tuesdays, November 26, December 3, 10, 17, 5-8 p.m.
Art Activities for Families: Tuesdays, November 26, December 3, 10, 17, 6-8 p.m.
Roof Top Reindeer: Saturdays, November 30, December 7, 14, 21, 1-4 p.m.
Horse–Drawn Sing-Along Trolley Rides: December 17-21, 5:30-9 p.m.
No reservations required. Adults $8, children $5. New this year: Reserve the trolley for your family or group by calling 616-975-3151. Group rates are $45 for six people, $65 for eight people and $100 for 14 people. $25 fee for all cancellations and rescheduling.
Christmas and Holiday Themed Classes: Enjoy festive learning opportunities for adults and families. Fees apply. Visit MeijerGardens.org/education for more information.
"Christmas and Holiday Traditions Around the World" is made possible by 39 sponsors including: The Meijer Foundation, Botanic and Sculpture Societies of Frederik Meijer Gardens & Sculpture Park, Henry Mast Greenhouses, Inc., Universal Forest Products, Inc., Mike and Sue Jandernoa and Michigan Christmas Tree Association. The Railway Garden is made possible by Warner Norcross & Judd, LLP.
# # #
Images available upon request. Click here for thumbnails: http://bit.ly/18mx32Z.
About Frederik Meijer Gardens & Sculpture Park
One of the world's most significant botanic and sculpture experiences, Frederik Meijer Gardens & Sculpture Park serves nearly 600,000 visitors annually. Meijer Gardens was recently ranked in the top 100 most-visited art museums worldwide by Art Newspaper, the leading publication in global art news. The 132-acre grounds feature Michigan's largest tropical conservatory; one of the largest children's gardens in the country; arid and Victorian gardens with bronze sculptures by Degas and Rodin; a carnivorous plant house; outdoor gardens; and a 1900-seat outdoor amphitheater, featuring an eclectic mix of world-renowned musicians every summer. The internationally acclaimed Sculpture Park features a permanent collection including works by Rodin, Oldenburg, Moore, Serra, Bourgeois and Plensa, among others. Indoor galleries host changing sculpture exhibitions with recent exhibitions by Picasso, Degas, di Suvero, Borofsky, Calder and Dine. In June 2015, the 8 – acre Richard and Helen DeVos Japanese Garden at Frederik Meijer Gardens & Sculpture Park will open. Created by renowned designer Hoichi Kurisu, the garden will also feature sculpture by Anish Kapoor, Zhang Huan, and Guiseppe Penone, among others.