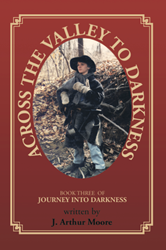 ...today's youth need to learn about history in a way that is relevant to them
Narvon, PA (PRWEB) November 12, 2013
During the American Civil War, more than a quarter million boys ages 17 and under were part of the Union and Confederate armies. J. Arthur Moore, retired history teacher and author, has created a moving story that explores the typically overlooked involvement of young boys in the war.
"Across the Valley to Darkness" – book three of the series – blends fact and fiction to tell the story of a twelve-year-old boy coming of age during the American Civil War, with the book's climax at the battle of Gettysburg. Set in Tennessee and Virginia, the book focuses on responsibility, struggle, courage and the importance of family and friends throughout life.
"Throughout the process of writing this series and based on my years as an educator, it became evident that today's youth need a way to learn about history in a way that is relevant to them," said Moore. "The books are meant to encourage an awareness and appreciation of that important period of history."
Already met with positive reviews from readers of a variety of ages, "Across the Valley to Darkness" and the rest of the books in the series are currently being carried by some libraries, schools and museums, including the Gettysburg Museum and the National Civil War Museum.
For more information, please visit http://www.upfromcorinth.com.
Across the Valley to Darkness
By: J. Arthur Moore
Hardcover: $29.99
Paperback: $19.99
E-Book: $3.99
ISBN: 9781483615868
Available at bookstore.xlibris.com, amazon.com and barnesandnoble.com
About the author
J. Arthur Moore is a retired educator with more than 40 years of experience, including teaching history to middle school students in public, private and independent settings. He is a great-grandfather of a family with four generations, a U.S. Navy veteran, photographer and writer. His passion for history takes him to Civil War events and presentations, where he shares factual stories of boys from the war. Moore currently lives in Lancaster County, Pennsylvania.
# # #