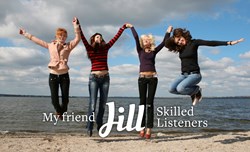 My Friend Jill offers anyone an outlet for honest, person-to-person sharing on an as-needed basis. Best of all – the conversation is always all about you!
Dallas, TX (PRWEB) November 12, 2013
My Friend Jill is a new online boutique service offering Friendship On Demand with skilled, professional listeners. Clients visit MyFriendJill.com to select the type of friend they want to chat with (a Jill), and when they want to schedule a call. Clients can also identify what type of experience they are looking for: support, feedback, just listening or even tough love.
As it becomes even easier to get movies, music, or order up dinner on demand, My Friend Jill uses this new technology to provide meaningful friendship on call.
With today's demanding schedules and short attention spans, receiving undivided attention from our friends has become increasingly rare – and valuable. Now with professional Jills on call, you'll know you're speaking with a skilled listener who is non-judgmental and 100 percent focused on you. She's always completely present and actively listening.
"Despite all of the recent technologies designed to allow people to share and stay connected, we have found that quality time for true, meaningful conversations between friends is diminishing." My Friend Jill Founder Laura Franzen said. She continued, "Jill offers anyone an outlet for honest, person-to-person sharing on an as-needed basis. Best of all – the conversation is always all about you!"
What are people calling Jill to talk about? The anonymous conversations allow callers to open up about relationship concerns, career struggles, and family and friend drama where there is no one else to turn to. Jill's only vested interest in the calls is being a good friend and listener – exactly what so many people desire when sharing has become devalued through online and social networks.
Clients pay My Friend Jill based on the length of their calls. Calls are available as 25 minute chats or 50 minute conversations.
Jill now offers people an opportunity to talk openly about their hopes, dreams, wishes and needs – a powerful step toward individual well-being. Previously, the only alternative for many people was a therapist. Now Jill fills this gap for people who need to talk to a skilled listener but are not looking for the commitments of therapy.
My Friend Jill Partner Mel Sellick says, "My Friend Jill is a great resource for individuals looking to work on themselves from the inside out. Research shows that we're much happier and live healthier, more joyful lives when we can share and are truly listened to. Jill believes everyone deserves to be heard."
------
My Friend Jill is a boutique professional listening service co-founded by Laura Franzen and Mel Sellick in 2013. Laura is an intuitive listener and life coach with a Masters Degree in Social Work. Mel is a compassionate listener and communications coach with a passion for positive living. My Friend Jill is based in Dallas, Texas.
Founders Mel & Laura are available for remote interviews via Skype or telephone.
For more information, contact MediaRequests(at)MyFriendJill(dot)com
For images and logos, visit: http://bit.ly/MyFriendJill