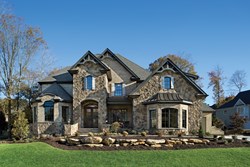 Clearwater, FL (PRWEB) November 12, 2013
Arthur Rutenberg Homes is pleased to announce that its Greenville franchise, American Eagle Builders, Inc., has opened a new fully furnished and professionally decorated Arthur Rutenberg model home, the Somerset 1239, in the Claremont Homes community.
The Somerset 1239 is part of Arthur Rutenberg Home's Design Collection and demonstrates what today's buyers want. Blending fresh and innovative design with function and value, this home contains 4 bedrooms, 4.5 baths, den, and 2nd floor bonus room.
Located at 205 Chamblee Blvd, the Somerset 1239 is situated in Claremont Homes, a private haven just this side of heaven. Claremont Homes is private community surrounded by open spaces, an abundance of forests, meadows, and parks. This community offers the look of luxury, the feel of elegance, and all in a private natural setting.
To learn more about Arthur Rutenberg Homes at Claremont Homes, please visit or call Jill Pearce, Bruce Pasquarella, or JoAnn MacHamer at (864) 558-0066.
About Arthur Rutenberg Homes
Arthur Rutenberg is celebrating 60 years in the homebuilding industry and has been a respected name in Florida homebuilding since 1953, when he built his first home upon the four "cornerstones" that would make him legendary: design, craftsmanship, service and responsibility. Today, Arthur Rutenberg Homes, Inc. is one of the largest networks of independently owned and operated homebuilding companies in the nation, with franchised homebuilders throughout Florida, North Carolina, South Carolina and Tennessee. For further information, contact Gabriella Nelms at 727-536-5900.