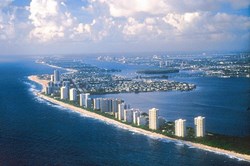 Palm Beach County is one of the most in-demand metro areas in the country.
Palm Beach, FL (PRWEB) November 11, 2013
The nationwide housing bust, which lasted several years, had homebuyers canceling contracts left and right and builders stuck with half built properties or empty finished projects. The tides have turned massively.
Palm Beach County has all of the qualities a homebuyer looks for. A plentiful calendar of cultural events to suit any and all taste levels and a variety of interests, glorious weather to soak up, great schools, pristine beaches, dining and shopping options galore, and homes of all types with all the comforts and frills you can think of.
Dual sinks in bathrooms, 5-star outdoor kitchen and dining areas, automated and programmable systems for things like the air conditioner or security system, which can be controlled when a homeowner is away from their home, swimming pools, saunas and breath-taking views of landscapes and/or water… no request is too far out of reach.
Whether you are more drawn to a waterfront condo in East Fort Lauderdale or a home in a more rural area like Wellington, with an expansive backyard, South Florida has it all and the options are just continuing to increase with builders working to out-do each other and existing developments piling on additional amenities to please and allure those looking for the extraordinary.
Palm Beach County is one of the most in-demand metro areas in the country with an ever-growing number of affluent families calling it home. Economic reports say luxury homebuyers are among those who have made the quickest recuperation, and are ready and willing to spend the money to get exactly what they want.
After being one of the hardest hit in the economic downturn of the 2000s, Palm Beach has made quite the recovery. Distinctive homes, fine living, and all the comforts one wants to retreat to on any given day… what's not to love?
Distinct Estates sells [Palm Beach homes as well as other highly-desirable areas all over South Florida, such as Palm Beach Gardens, Jupiter, Boynton Beach, and Manalapan. Distinct Estates represents both buyers and sellers who are in search of their South Florida dream home. The reputable South Florida real estate agency is composed of highly experienced Florida realtors who have received many accolades for their level of professionalism and results.