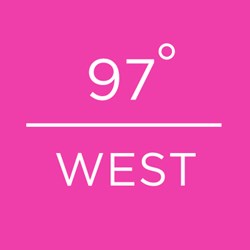 AUSTIN, Texas (PRWEB) November 14, 2013
97 Degrees West, an international, award-winning advertising, marketing and branding firm has found a way to give back to the Austin community beyond a donation with a monetary value by announcing that they will be the sole provider of creative services for the Austin Affiliate of Susan G. Komen® through 2014.
Historically, companies and brands have found ways to donate their products to charities of their choosing, but what happens when your company does not have a tangible product? This was the challenge in which 97 Degrees West President, Vera Fischer, solved when she discovered that her team could offer their services of expertise in the world of advertising and marketing to help support a local charity of their choosing.
Discovering this unexpected way to give back, Fischer learned that Susan G. Komen Austin® wanted to consolidate all of their advertising and graphic design projects with one agency in the Austin area. "We didn't want to just write a check. We wanted to give back to the community in a more meaningful and personal way that could provide benefits and support for the charity now and in many years to come and this was the perfect opportunity to do so," Vera Fischer stated.
In addition to the optimal timing of this opportunity, the core values of what Susan G. Komen Austin® was founded upon aligned with what the 97 Degrees West team was looking for in a local charity partner. Susan G. Komen Austin® raises money to fund breast cancer screenings, education and medical services to women residing in the Austin area. Komen Austin dedicates 75% of every donation dollar earned to fund efforts locally around Austin while also providing 25% nationally to fund and further support the Susan G. Komen® corporate initiatives.
While donating hundreds of hours of marketing expertise to the organization, 97 Degrees West has also been put in charge of rebranding the local Austin Affiliate for 2014. Executive Director of Susan G. Komen Austin®, Christy Moore said, "We're thrilled to have the 97 Degrees West team on board and have their expertise lead our creative design and rebranding efforts for 2013 and 2014."
About 97º West
Proudly based in Austin, TX, 97 Degrees West is a fiercely independent agency, not only in ownership structure but, more importantly, from the conventional wisdom and practices of the marketing industry. They have depth and expertise in all the traditional areas -- interactive, account management, strategic planning and creative execution – yet do not confine themselves to these boxes. The agency's strengths lie in its ability to identify a company's core values and develop clear, precise branding and positioning that have a creative voice and speak to the truth of the brand. 97° West is a HUB and WBENC certified agency. http://www.97dwest.com.
About Susan G. Komen Austin
One out of eight women will have to fight breast cancer in her lifetime. That's why, since 1999, Susan G. Komen® Austin has been hard at work here in the Austin area raising money to provide breast cancer screening, education and medical services as well as financial and emotional support. In fact, 75 percent of the money we raise each year is put to work right here in Bastrop, Caldwell, Hays, Travis and Williamson counties to improve the lives of everyone affected by this deadly disease. The remaining funds are dedicated to global research. For more information about the organization, please call 512-473-0900 or visit http://www.komenaustin.org.
###