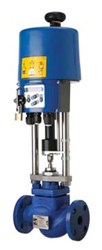 Blythewood, South Carolina (PRWEB) November 13, 2013
Spirax Sarco, the leader in products and services for steam systems, is excited to announce the release of the new AEL6 series, the first smart high speed linear electric actuator.
The AEL6 range is ideal to control steam and other industrial fluids without the need for compressed air. For applications that require fast response from control valves and a high thrust fail-safe function, the AEL6 meets the fast response and fail-safe requirements of typical steam heat exchanger applications within the institutional market.
Some of the benefits of the AEL6 series include:

Reduced lifetime cost – as energy consumption is lower
Reduced carbon emissions
Reduced plant downtime, through quick, easy installation and commissioning
Ability to develop preventative maintenance schedules
Contact your local Spirax Sarco representative to assist you with sizing and specifying the most suitable AEL6 series electric actuator for your application.
###
About Spirax Sarco, Inc.
Spirax Sarco is the world leader in steam system management. The Company provides a broad range of fluid control products, engineered packages, systems expertise and site services for its diverse range of over 100,000 industrial and institutional customers. The Company helps its customers to optimize production capacity, reduce energy costs and emissions, improve product quality and enhance the safety of their operations. Spirax Sarco has strategically located manufacturing plants around the world and employs approximately 4,700 people, of whom around 1,300 are direct sales and service engineers. Further information can be found at http://www.spiraxsarco.com/us.