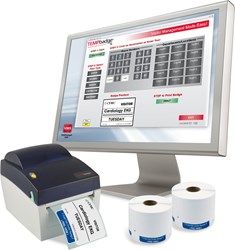 The TEMPbadge Visitor Management System is fast (just 4 clicks and 5 seconds per visitor); requires little or no training to operate; and is a complete solution for under $1,000.
Billerica, MA (PRWEB) November 19, 2013
TEMPbadge ID has announced the launch of its new TEMPbadge Visitor Management System, an affordable, entry-level software solution for visitor care. The system gives businesses an easy, quick and affordable way to manage visitors and keep their facilities safe and secure.
"There are so many customers who want to implement a visitor management system – especially in the healthcare and education markets – but they simply don't know where to start," said Lee Porter, product manager for TEMPbadge. "This new solution is the perfect stepping stone to get them underway: it's fast, simple to use, and surprisingly affordable."
According to Porter, the entire visitor management system can be implemented for less than $1,000. This includes the new TEMPbadge Visitor Management Software, 1,000 self-expiring visitor badges, as well as a durable, direct thermal printer. It contains the complete solution – everything an organization needs to launch a visitor care program.
In addition to its attractive price point, the TEMPbadge Visitor Management System also offers an incredibly fast visitor processing time. Unlike other visitor sign-in systems, which can often create long lines or bottlenecks, the TEMPbadge system facilitates an efficient, professional visitor sign-in process.
"All it takes is four clicks and five seconds per visitor," said Porter. "It is the fastest visitor management system available in the marketplace today."
The TEMPbadge software system is convenient for first-time users and office personnel, too. It has an easy-to-navigate interface that requires little to no training, and it can be customized based on the specific needs of the facility or organization. There are also user-friendly reporting functionalities on dates, destinations or pass types, which become increasingly important in the event of an emergency, evacuation or facility investigation. These reports can provide a detailed account of the number of visitors in the facility and their intended destinations.
"The TEMPbadge Visitor Management System offers an impressive range of features at a very cost-effective price," said Porter. "It's a simple solution that can create a powerful first impression with visitors from the moment they walk in the front door."
To learn more about the benefits of the TEMPbadge Visitor Management System, watch the TEMPbadge overview video. For more information, or to request a free 15-day trial, visit http://www.TEMPbadge.com.
About TEMPbadge ID:
TEMPbadge ID has been manufacturing self-expiring badges, parking permits, wristbands and other visitor management products since 1981. Formally known as TEMTEC, Inc., TEMPbadge is now a product line of Brady Corporation. It has more than 300 products that are manufactured in Milwaukee, Wisconsin and sold through a network of qualified resellers. The brand currently holds 15 issued patents and 3 pending patents on products and production processes. TEMPbadge products are used by thousands of organizations worldwide, including Fortune 500 corporations, government agencies, healthcare facilities, airports, schools, financial service organizations and pharmaceutical companies. To learn more about TEMPbadge products, visit http://www.TEMPbadge.com.