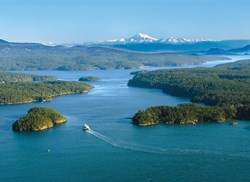 This particular collection offers a unique selection of cruises which sail at just the right time to highlight some of the Pacific Northwest's best and most memorable wonders. - Timothy Beebe, Vice President, American Cruise Lines
Guilford, CT (PRWEB) November 12, 2013
American Cruise Lines (http://www.americancruiselines.com), operator of the newest riverboats and small cruise ships in the United States, announced today its Puget Sound Spring Cruise Collection, a various selection of cruises handpicked to showcase the beautiful 2013 spring season on the Puget Sound & San Juan Islands. Offered on the 100-passenger American Spirit, these cruises will peak the interest of wildlife, gardening and botany enthusiasts, as well as those with an interest in regional cuisine and wines. The new collection includes:
Whale Watching Cruise with complimentary pre-cruise stay on the American Spirit: An incredible array of wildlife, including whales, eagles, seals and many other fascinating species, are found in and along the waters of this region. Along with prime whale watching opportunities, this one-of-a-kind theme cruise features a number of activities and events that will immerse guests in the beauty and splendor of the region. Cruise highlights include a complimentary pre-night stay aboard the American Spirit, an all-access CityPASS to Seattle, whale watching along the San Juan Islands and a whale adoption ceremony, a SeaBear Salmon tasting tour, a wildlife presentation onboard and exclusive welcoming events. Featured Date: April 12, 2014
Tulip Festival Cruise: Springtime in the Pacific Northwest is a wonderful time with one of the most impressive floral displays in the United States. Guests will admire the vibrant, vast tulip and daffodil gardens that dot the region, chat with the master growers and learn valuable tips they can bring to their own gardens. Cruise highlights include a trip to Butchart Gardens, one of the world's premier show gardens, as well as the sprawling Olympic National Park. Guests will also enjoy the Skagit Valley Tulip Festival and special onboard events and demonstrations. Featured Date: April 19, 2014
Food & Wine Cruise: This is the perfect cruise for food and wine lovers. On this theme cruise, guests will celebrate the Pacific Northwest's delectable seafood and fine wines. Onboard experts will provide priceless experiences and knowledge for all enthusiasts. Guests will savor regional cuisine such as Pacific Northwest salmon, and learn about the perfect wine pairing for specific palates. Cruise highlights include numerous onboard food and wine tastings of the different areas visited, guided pairing demonstrations by wine expert Regina Daigneault and Chef Jay Delong, a visit to Westcott Bay Seafarms, a sustainable oyster farm, and a visit to Theo's Chocolate, a local chocolatier in Seattle. Featured Date: April 26, 2014
"The springtime is one of the best times to experience this region of the United States," said Timothy Beebe, Vice President of American Cruise Lines. "This particular collection offers a unique selection of cruises which sail at just the right time to highlight some of the Pacific Northwest's best and most memorable wonders. Each of these new theme cruises will leave guests with a feeling of enrichment and discovery."
About American Cruise Lines
American Cruise Lines, the largest U.S. cruise company, operates the newest fleet of riverboats and small cruise ships on more than 35 itineraries around the country. Long established and deeply experienced in cruise travel, American Cruise Lines has most recently received world-wide recognition as the first to revive paddlewheel river cruising in America. The line is known for working closely with guests and travel agents before, during, and after a cruise to create a highly personalized cruise experience. To learn more about American Cruise Lines, visit http://www.americancruiselines.com or call 800-814-6880. Find us on Facebook at http://www.facebook.com/americancruiselines or follow us on Twitter at http://www.twitter.com/american_cruise.
###