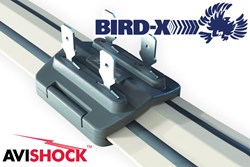 The partnership with Bird-X is ideal as they are an industry leader.
Chicago, IL (PRWEB) November 13, 2013
Bird-X, Inc. will have exclusive rights to market and sell the new Avishock system by P+L Systems. Over 20 years old, UK-based P+L Systems is known for developing high-quality products built with design, service, and quality in mind. Steve Jackson, General Manager of P+L Systems LLC states, "The partnership with Bird-X is ideal as they are an industry leader."
Avishock is the next generation in electric bird shock track, with numerous improvements over competitive products making it safer, easier to install, and easier on the eyes! The sleeker, narrower track is perfect for discerning building owners. While enhancing aesthetics, the track also provides safer, more effective results, longer life, and less maintenance.
The design of the track itself is built like the roof of a house; sloped and smooth with tapered edges, so that dirt and rain water will wick away from the unit. This is accomplished by Avishock's patented design – conductive polymer covers that protects the conductive copper insert, providing a water-resistant electric shock to keep birds away.
The UV-stable base is much more durable than competing products. Because the conductive material is not stitched, shorts, arcing and weather-related damage is virtually eliminated. The track is installed easily with quick-snap connectors reducing installation time by 20% or more. There are no sharp edges or messy braiding to slow down or cut the hands of installers. Dennis Tilles, President of Bird-X, says, "Avishock addresses all of the shortcomings of the existing bird shock systems. Our customers like the fact that it is maintenance-free."
In short, buildings no longer need to compromise aesthetic appeal to keep nuisance birds away – this attractive, discreet, easier to maintain, easier to install track makes many of the headaches normally associated with traditional shock track systems obsolete. Avishock redefines shock track systems! It is definitely the product of the future.
Bird-X, Inc. is based in Chicago, IL, USA and has been a pioneering force in the environmental and humane bird and pest control business with an exceptionally strong commitment to new product development. Bird-X prides themselves on putting the latest scientific discoveries to work and bases their reputation on selling only high quality products that add value for all Bird-X Inc. partners.