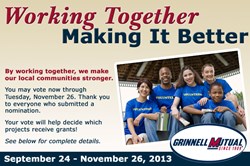 'Anyone can vote for a project. Each vote on Grinnell Mutual's Facebook page will help decide which projects will receive one of the three grants.'~ Barb Baker, Advertising and Community Relations Director
Grinnell, Iowa (PRWEB) November 12, 2013
Ten community projects are finalists in Grinnell Mutual's Working Together, Making It Better grant initiative. The public is invited to vote for project finalists to receive grants on the company's Facebook page, https://www.facebook.com/myGrinnellMutual. With help from its Facebook fans, Grinnell Mutual will distribute $3,500 in grants to three non-profit organizations.
"People living and working in rural areas know what it takes to make a community a better place," said Director of Advertising and Community Relations Barb Baker.
Working Together, Making It Better recognizes the efforts of those people working hard across rural communities to make them vibrant. Their efforts make their communities better. Working Together, Making It Better is Grinnell Mutual's way of celebrating community collaboration and recognizing innovative community projects.
"Anyone can vote for a project," said Baker. "Each vote on Grinnell Mutual's Facebook page will help decide which projects will receive one of the three grants."
Working Together, Making It Better Finalists:
CASA (Court Appointed Special Advocates), Circuit Court of Fulton County in Rochester, Ind., requests funds to establish an ongoing recruitment and training program to support the current and potentially growing needs for CASA volunteers. These volunteers advocate for children whose parents are moving through the court system and may also undergo treatment for addiction. Volunteers monitor, mentor, and communicate with affected minors.
Cultivate Iowa of Des Moines, Iowa, encourages Iowans to try food gardening and encourages gardeners to donate extra produce to food pantries to ensure that high quality, healthy foods reach those who need it most. Funds will be used to support an intensive launch of the Cultivate Iowa campaign in spring 2014.
Full Speed Ahead and SLAM Dunk of Angola, Ind., provides at-risk students with additional homework help and academic enrichment after school. Funds would be used to increase program effectiveness through more in-depth family involvement in the program.
Lake Mills Summer Food and Fun of Lake Mills, Iowa, serves a healthy, well-balanced lunch to kids who might otherwise be at home alone, to families in need, and to kids between summer activities. Funds would go toward continuing this program and adding activities or incentives for children who attend.
Langford Public Library Mother Goose Storytime and Summer Reading Program in Langford, S.D., was launched to immerse children, youth, and families in reading and to promote the love of learning through books. Funds would purchase new books, craft supplies, and computer equipment.
Let's Go Fishing in Winona, Minn., is a volunteer-run organization that uses a 26' pontoon boat to take people, from children to senior citizens, boating or fishing on the Mississippi River. Funds are requested to provide kids with a fishing outfit after completing the fishing classes and to continue operations.
Luverne Street Music in Luverne, Minn., is a non-profit, community-driven music school that provides an opportunity for children and adults to access affordable music instruction previously not available in the community. Funds would be used to provide a website to coordinate lessons, upgrade equipment, refurbish additional space for lessons, and provide subsidies for school-age students.
Northeast Nodaway Partners in Education Foundation in Parnell, Mo., proposed a project to create a practice field on city park ground located adjacent to the school. Funds would go toward purchasing bases, building a backstop, and putting an infield conditioner/drying agent on the field.
The Big Day of Serving in Lima, Ohio, requests funds to provide materials and supplies for projects that are completed in eight hours, rain or shine, and include painting, trimming, mulching, planting, cleaning city blocks and parks, doing minor home repairs, and more.
The Sully Central Park Revitalization initiative in Sully, Iowa, is a two-year plan of the Sully Foundation to revitalize its Central Park. Funding is sought to renovate park facilities for the benefit of the community.
Voting is now open. To vote, visit Grinnell Mutual's Facebook page, https://www.facebook.com/myGrinnellMutual. Voting ends Tuesday, November 26. The three finalists with the most votes will receive $2,000, $1,000, and $500, respectively.
About Grinnell Mutual
Grinnell Mutual Reinsurance Company, in business since 1909, provides reinsurance for farm mutual insurance companies and property and casualty insurance products through more than 1,600 independent agents in 11 Midwestern states. Grinnell Mutual is the 123rd largest property-casualty insurance company in the United States and the largest primary reinsurer of farm mutual companies in North America.