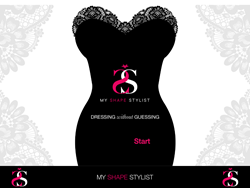 This app will revolutionize the way women shop!
London, United Kingdom (PRWEB) November 14, 2013
You stand in front of the mirror... but why is it wrong... it's not what you expected. The clothes looked great in the shop window, in the catalogue and on the internet... Just not on you. "Why is that?!! I don't understand, it's so disheartening..."
Cristina Holm, Personal Image Stylist, knows this is a common problem for the vast majority of women, both young and old. In fact, it's not unusual for Cristina to find 30-60% of a woman's wardrobe filled with clothes that are never worn and/or don't suit her shape! Though it doesn't have to be that way...
"It really is as simple as understanding your scale, body shape and key features, then dressing with styles that complement them. Then being disciplined to stick to your rules, without compromise!" says Cristina.
Easy of course if you are Cristina, who has been dressing woman of all shapes and sizes for over 20 years; easy if you have the time and access to all the right research and easy if you are lucky enough to afford your own stylist? True, However it's now easy for all women thanks to a new app called My Shape Stylist.
12 months in the making, Cristina's created an app that will revolutionize the way women shop! It launches on iOS7 for the iPad and iPhone on 14th November 2013.
Using 5 years worth of body shape insight from clients who have used Cristina's 3D body measurement scanner, the result is an app that takes away both the 'guessing' and stress of clothes shopping.
The app takes 10 minutes to record your measurements and features. Thereafter, immediate access to fantastic, unbiased and accurate dressing advice. What's more, the body shape advice is completely free and so is the style advice for Tops. Developed this way so women can 'test' Cristina's advice and experience for themselves the amazing results, without costing a penny!
There is a small fee for other garment advice, though none for more than the cost of a coffee, as Cristina wanted to make sure her advice is affordable for women everywhere.
"Looking great has such a positive effect on a woman's feelings and confidence. The results are almost magical... that's why I adore what I do." chirps Cristina.
However that's not all... the app is beautifully designed with named illustrations so it's clear and easy to refer to, any time you need. It also includes visuals of 'styles to avoid' and is perfect for shopping, whether online or in store.
Cristina says "I've realised what women want. I call it 'Dressing without Guessing'. So I created My Shape Stylist to do exactly that. I cannot help all women in person, however my app means I can help women everywhere. My unbiased advice can now be found at the tap of a screen. How great is that!"