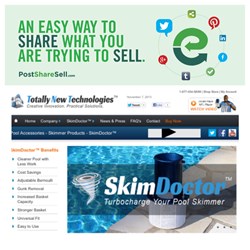 Totally New Technologies and with the help of PostShareSell.com they'll put the "happy" back into cleaning your pool.
Nashville, TN (PRWEB) November 12, 2013
PostShareSell.com is partnering with Totally New Technologies to get their pool product SkimDoctor™ into the hands of all pool owners. PostShareSell (PSS) is a classified, business directory and a social media mashup. PSS is focused on providing businesses and individuals the ability to directly connect with users through the power of social media. Their marketplace allows anyone the opportunity to easily buy and sell variety of products and services. PostShareSell is the only such company providing a social analytics platform design to help its users engage with their audience across multiple social channels at any time.
What is SkimDoctor™?
Swimming pool owners have been dealing with debris-filled pool skimmers for more than 50 years. Everyone knows that reaching through muck, dead animals, and spiders to empty the skimmer basket is a necessary evil that none enjoy. With the all new SkimDoctor™ this necessary evil becomes no more a chore but an effortless task. The SkimDoctor™ is a cleaner, more efficient, cost savings swimming pool skimmer product designed to attach to your skimmer basket and turbocharge your existing pool skimmer. SkimDoctor™ creates a funnel effect in your existing pool skimmer basket which forces pool surface debris to flow directly to the bottom of the basket, so there is no more dipping your hand through the gunk to remove the basket.
SkimDoctor™ has a universal fit and is designed to fit all major skimmer baskets used with in-ground pools. SkimDoctor™ also fits above-ground pools with large skimmers.
Jovan Haye, former NFL player for the Buccaneers and Tennessee Titan lineman turned entrepreneur, in an exclusive interview laid out his perception of this diamond in the rough company Totally New Technologies. Jovan said, "It was a chance meeting, one of those that come along once in a lifetime." He told us that once he saw what TNT was up to and their products, he immediately realized that he wanted to be involved. He went on to explain how many companies seek his endorsement but it was a no-brainer the moment he met the TNT team and was introduced to their creative innovation and practical problem solving products.
Check out PostShareSell.com and Totally New Technologies to see this product in action.
Check out Totally New Technologies website here: http://www.totallynewtechnologies.com
Media contact info etc.