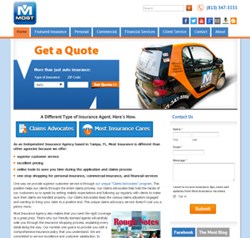 'We wanted to create an experience for our clients and our prospects on the new site,' Most said. 'The workflow is easier throughout the new site.'
Tampa, FL (PRWEB) November 13, 2013
Most Insurance, an independent insurance agency located in Tampa, Florida, launched a new website on November 1. Features of the site include:

Unique, custom site design and graphics
Secure online bill pay and claims forms
Free account review service
Detailed information on personal and commercial insurance services offered
Frequently updated company blog on current insurance issues
The site's responsive design allows the site to adjust to display correctly on various monitor sizes and mobile devices. As updates to the site become necessary, Most Insurance staff can update the site through a content management system.
The new Most Insurance site serves as a tool for both current clients and prospects, according to Eric Most, Most Insurance Vice President.
"We wanted to create an experience for our clients and our prospects on the new site," Most said. " The workflow is easier throughout the new site."
The site features Most Insurance's claims advocate service, a unique service in which Most Insurance assists clients with claims filing with their insurance carrier.
"Our claims advocate service is one of a kind. Although we are not claims adjusters, we are available to our clients as a resource throughout their claim filing because of our relationship with our insurance partners," Most said. "It was important that the new site serve as a further tool to guide clients and prospects through our claims advocate service."
Another unique feature of the site is a prayer request form. Most and his staff hold weekly prayer meetings, and the new site allows visitors to submit their own prayer requests.
"At Most Insurance, we're different in many ways, and we wanted our site to convey that message," Most said.
About Most Insurance
Most Insurance is an independent insurance agency founded in 1973. The agency partners with several national insurance carriers. Its Florida licensed agents assist clients with the insurance shopping process. Most Insurance Agency works hard to provide its clients with a comprehensive insurance policy that gives clients confidence and peace of mind. To learn more about Most Insurance Agency, visit their brand new website at http://www.mostins.com.