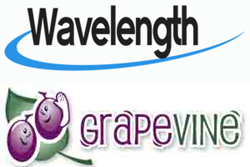 Partnering with Akira further shows our commitment to providing organizations of all sizes HR applications that are easy to use, flexible and fully customizable to meet any needs.
(PRWEB) November 13, 2013
Grapevine in tandem with Akira Systems (Akira) announces the launch of their co-marketing partnership. The new joint-offering is available immediately to their clients. Wesley Houston, Director, Operations of Grapevine added, "Partnering with Akira further shows our commitment to providing organizations of all sizes, HR applications that are easy to use, flexible and fully customizable to meet any needs. We are a leading provider of survey/evaluation software and will continue to expand our offering to other areas by partnering with companies; that have great products such as Wavelength and that follow the same model of being cost effective and scalable for any size opportunity without falling short on features provided."
Ashraf Ghadban, CEO of Akira added, "In partnership with Grapevine, the Wavelength platform will start helping more companies save time and money faster. Building on the success of the Wavelength platform at Western University and other distinguished organizations, our singular focus remains the same: to help companies better manage all aspects of their workforce and enable enhanced communications and self service."
The combined Grapevine and Akira Wavelength offering creates a national leader in talent management solutions and services, benefitting all stakeholders in several ways including:

State of the art technology solutions and opportunities to serve clients with stronger capabilities
Complementary product and service portfolios across HRIS technology and HR processes
Specific solutions for employee surveys and evaluation, employee management and payroll services.
Diversified presence across industries and organization employee sizes
Cost savings and operational efficiencies
About Akira Systems
Akira Systems Inc. currently supports IT solutions for many organizations including Western University, London Health Sciences Center, Good Life Fitness, ConnexOntario, and Chatham Kent Public Health Unit. Since 2004, Akira Systems has provided organizations information technology, systems engineering and other services to clients. Akira works closely with its clients to gather information about their unique needs, and determine what they require in a system in order to meet various business objectives. Akira then customizes the system to meet those needs and integrate with any existing software systems. Akira is committed to delivering the highest quality results, on time and on budget, that meets or exceeds our client's expectations.
Akira's Wavelength platform is a comprehensive and cost effective Workforce Management (WFM) solution, which extends beyond traditional HRIS, Scheduling, Time and Attendance systems by engaging the workforce through a workflow centric approach. Wavelength's self-service environment empowers employees to manage their work and information.
Akira's system standardizes workflow and communications to enhance collaboration between Employees, Supervisors and Administrators. This supports improved service quality, productivity and continuous improvement.
About Grapevine
Grapevine is a leading provider of online survey software specializing in employee surveys and evaluations. Originally developed in 1999, Grapevine's core engines were later deployed in 2005 on a SaaS model, empowering our customers to create and distribute on-demand surveys and evaluations that produce real-time feedback to drive better, more informed business decisions. Grapevine delivers many specialized web-based survey solutions including: Employee Evaluations, 360-degree Feedback, Performance Reviews, Employee Surveys, Exit Surveys, Training Feedback, and much more.
Grapevine's commitment is to our customers. We strive to provide excellent customer service, complete data security and confidentiality, along with reliable hosting service and software applications. We have been successful in acquiring and retaining our customers due to the "ease of use" of our product, allowing any size of business to create, conduct and analyze web-based surveys/evaluations without the need to download or install any software. Our customers, from start-up to global corporations have made Grapevine an integral part of their decision-making process.