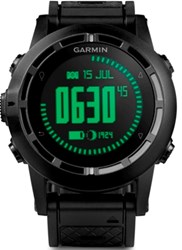 It is the data and navigation qualities of this watch that make it so special
Bozeman, MT (PRWEB) November 14, 2013
Garmin Tactix is a new special ops and military watch from Garmin built to exacting specifications required by special operations according to the Heart Rate Watch Company.
"Special considerations have to be given to watches to meet special ops criteria like curved, non-glare crystals, green LED back lights that won't flare out with night vision goggles," says Rusty Squire, President of the Heart Rate Watch Company. He adds, "It is the data and navigation qualities of these military watches that make them so special."
STREET MAPS
"Garmin Street Maps can be loaded to the watch to give you street by street navigation capabilities in most of the world's cities," says Squire. He adds, "This can save a lot of time when missions are in foreign cities."
KEY FEATURES
Tactix is water resistant to 50 meters. This watch also contains GPS, a barometric altimeter, 3-axis compass, plus it can record up to 1,000 waypoints and 10,000 track points. "The trackback feature can also guide you right back out the way you came in," says Squire.
The US Tides feature and Jumpmaster mode are invaluable to both amphibious and airborne operations. Plus, the Garmin Tactix can remote control the Garmin VIRB Elite HD action cameras.
Tactix displays sun/moon information, a hunt/fish calendar in addition to basic watch functions such as alarms, tones, vibration alerts, a timer, stopwatch and world clock with the ability to display several times zones at once.
Garmin Tactix can also pair up with a Garmin Tempe sensor to deliver and record very accurate real-time temperature data.
FOR FITNESS
"This watch also works great for fitness with an optional Garmin heart rate monitor," says Squire. He adds, "It can do pace, mileage, heart rate and calories for virtually any outdoor sport and it works great as simply a heart rate monitor in the gym."
"There really isn't much that this watch can't do and it contains 95% of the features of the very popular Garmin fenix along with a few changes for special ops," says Squire.
MILITARY DISCOUNT
"For 5 years we have offered all US military personnel, active and retired, a 10% discount and all you need to do is call us at 866-586-7129 to get your military code authorization," says Squire. "We are proud to support our troops and will continue that tradition."