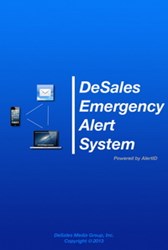 AlertID technology enables us to deliver critical safety information to schools, families and parishioners... Monsignor Harrington, Vicar for Communications for the Diocese of Brooklyn.
New York, NY and Las Vegas, NV (PRWEB) November 12, 2013
On the one year anniversary of Hurricane Sandy's landfall in Brooklyn and the surrounding areas, the DeSales Media Group, working with the Diocese of Brooklyn, last week announced the launch of the DeSales Emergency Alert System (EAS) App powered by AlertID, to help provide critical information and alerts during emergencies. The DeSales app will help protect more than 30,000 children in the Diocese's 89 schools.
Hurricane Sandy significantly disrupted communication between the schools and the families of the children who attended them. In some cases, the only way to contact schools or parents was to walk door to door. That challenge inspired DeSales to seek an emergency communications solution for the schools in the Diocese of Brooklyn. With this partnership, DeSales and the Diocese are able to use AlertID technology to redefine the way in which critical public safety information is communicated and shared between schools and families.
The free app sends secure notifications from school administration to staff, teachers, students and families to provide immediate information on everything from snow days and school lockdowns to natural disasters and evacuation information. The Emergency app is available as a mobile application for iPhone, iPad and Android phones and tablets and is powered by AlertID.
"We are very pleased to partner with AlertID. Their technology enables us to deliver critical safety information to schools, families and parishioners," said Monsignor Harrington, Vicar for Communications for the Diocese of Brooklyn. "AlertID offers an important and comprehensive solution allowing us to send out important information very quickly in any situation and protect families at home as well."
The app also includes other important features that enhance the safety and well-being of teachers, administrators, families, and parishioners. Members can view local maps showing where registered sex offenders live or work in their neighborhoods, and will receive an alert, safety information and prevention tips when an offender moves into their neighborhood or near their child's school. The app gives members and neighbors the ability to securely share information with each other, empowering the public and helping to reduce crime. The app also offers a secure place (My Family Wallet™) for families to store current photo and demographic information about their child, including the ability to send the information to authorities in the case of a missing child.
"We are grateful for the opportunity to work with DeSales Media Group to help protect the children and families at the schools throughout the Diocese of Brooklyn," said Ken Wiles, CEO of AlertID. "Hurricane Sandy brought devastation to Brooklyn and Queens, and we are proud to help the Diocese achieve the vision of delivering a secure emergency communication solution to students and their families."
About DeSales Media Group
DeSales Media is the communications and technology arm of the Diocese of Brooklyn. DeSales is a fully integrated media company whose primary mission is to lead Catholics living in Brooklyn and Queens to a deeper faith. A diversified media company comprised of New Evangelization Television (NET), Currents, the only daily Catholic news program in the U.S., The Tablet newspaper, Nuestra Voz, Catholic Telemedia Network (CTN), and online properties, DeSales offers original content with a Catholic point of view.
About the Diocese of Brooklyn, NY
The Diocese of Brooklyn is the eighth largest diocese in the United States, and the only entirely urban diocese. Shepherded by Bishop Nicholas DiMarzio, it is home to 1.5 million Catholics in Brooklyn and Queens. It is also known as the "Diocese of Immigrants." Mass is celebrated in over 30 different languages every weekend and includes over 230 churches. With 89 Catholic schools and academies, it is the seventh largest Catholic school system in the country, and educates over 30,000 students.
About AlertID
Live Safely™ with AlertID. AlertID is the safe way to receive trusted public safety alerts and share information with neighbors.
Alerts are provided by trusted sources including public safety agencies, local law enforcement, schools, neighborhood groups, neighbors, family members and friends. This first-of-its-kind, fast-growing network is the leader in helping people protect their families and communities throughout the United States and is poised to evolve into the world's go-to public safety and security resource. For information on critical public safety alerts and sharing information with neighbors, friends and family across the country, visit http://www.AlertID.com.