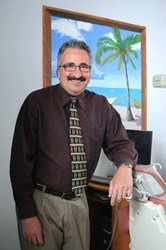 Monroe, CT (PRWEB) November 11, 2013
Richard Amato, DDS is recognizing Diabetes Awareness Month this November. Many people may wonder what dentistry has to do with diabetes, but there is a strong link between this serious illness and gum disease. The link works both ways. People who have diabetes may be more susceptible to infections like periodontitis; while an infection like periodontitis may create fluctuations in blood glucose levels. Dr. Amato, a Monroe, Connecticut Periodontist, recommends that individuals seek gum disease treatment to improve their overall health and reduce their risk of developing an illness like diabetes.
Gum disease is highly prevalent among adults in the United States. This condition starts with bacteria that naturally occur in the mouth. They accumulate on the surface of teeth in a film called plaque. When plaque is not properly removed from the tooth's surface, it can harden into tartar and spread beneath the gum line, creating a pocket between the tooth and gum tissue where further infection can occur. When left untreated, this infection can lead to tooth loss, bone loss, and overall health issues including association with Type II diabetes, heart attack and stroke.
Diabetes is an illness that occurs when there is a problem that causes blood glucose levels to rise and stay at a level that is much higher than normal. It comes along with many health complications related to the eyes, nerves, and skin. Good oral health care including treatment of periodontitis can help reduce a person's risk of developing diabetes.
Dr. Amato believes in offering patients the latest advancements in gum disease treatment. Accordingly, he is certified to perform the Laser Assisted New Attachment Procedure (LANAP). LANAP is a laser gum disease treatment that is less invasive than traditional methods. The laser is selective, and is able to kill bacteria and remove diseased tissue while leaving healthy tissue intact. This healthy tissue can then reattach to the tooth's roots and therefore eliminate the pocket between the tooth and gum tissue that was formed by gum disease.
For more information about how treatment of periodontitis may be able to help reduce a patients' risk of developing diabetes, visit http://www.connecticutperiodontist.com.
About The Doctor
Dr. Richard Amato is a Periodontist and Dental Implant Specialist who provides the most advanced technology for his patients in Monroe, Connecticut. He has placed thousands of dental implants since 1989. Dr. Amato graduated first in his class with a DDS degree from Stony Brook University. Dr. Amato then completed a full time multi-year specialty residency and received his Certificate of Proficiency in Periodontics from Eastman Dental Center at the University of Rochester. He is part of one percent of dentists in the USA providing the LANAP FDA cleared laser procedure for gum disease treatment. Dr. Amato is the first and most experienced dentist to provide LANAP therapy in Fairfield County Connecticut. To learn more about Dr. Amato and his dental services visit his website at http://www.connecticutperiodontist.com and call (203) 712-0917.