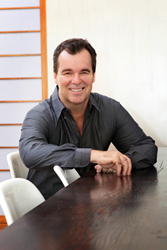 But instead of trying to predict the future, I think it's more sensible to set up property deals that don't leave you in the lurch if the bubble bursts.
(PRWEB) November 12, 2013
Property investment authority Rick Otton has analysed recent conflicting reports of the reappearance of a UK property bubble, and come up with a simple conclusion: ignore them – and focus on building a property portfolio that isn't influenced market whims.
At the end of October, Land Registry figures suggested only a modest 3.4% rise in house prices in England and Wales. At the same time, a nationwide survey showed that house prices across the UK had risen 5.8% in the past year, leading to a warning from a chief UK economist of a new property bubble.
"You've got one report saying that prices are only rising just above inflation, and another saying we're on the cusp of another property bubble. Rather than trying to work out who to believe, why not focus on property investment strategies that mean you aren't at the mercy of interest rates and market fluctuations," said Mr Otton.
Get Ahead of the Curve
Mr. Otton has made his Power Property Profits Pack available to UK residents, at no charge, in the lead up to his March 2014 property investment conference. The pack is valued at £232, and includes key information on how to get in to real estate investing in the UK without being limited by access to cash for deposits, or bank loans for credit, and even without investment experience.
"The pack is really focussed on property investment strategies that work regardless of the location or where in the cycle the market is. With all this 'bubble or no bubble' speculation, I think it's important to get information out to people about alternative approaches to the UK property market," said Mr. Otton.
No Magic Crystal Ball
While Mr. Otton has been developing these strategies over several decades of property investing in the UK, he highlights the increased relevance of his non-traditional approach following the significant change in the UK property market following the global financial crisis.
"We all know what happened in 2008, and that's why everyone is trying to use their fortune-telling skills to see if we're headed for another UK property bubble. But instead of trying to predict the future, I think it's more sensible to set up property deals that don't leave you in the lurch if the bubble bursts," said Mr. Otton.
The Power Property Profits Pack gives an overview of Mr. Otton's successful strategies, and is available for complimentary download from rickotton.co.uk.
About Rick Otton
Rick Otton is a property investment professional who, over the last 23 years, has introduced innovative real estate strategies to the UK, Australian and the United States. His creative 'low-risk, high-reward' approach to buying and selling houses is exemplified in his own business, We Buy Houses.
This year marks the 10 year anniversary of Mr. Otton introducing his strategies to the UK, and the 5 year anniversary of his innovative 'Buy A House For A Pound' process – one that attempted to be emulated by others. His constant process of strategy refinement, and adapting to the ever-changing real estate market, continues to place him at the forefront of property investment education.
In 2012 Rick Otton published his Australian book 'How To Buy A House For A Dollar' which was named in the list of Top 10 Most Popular Finance Titles for 2013. A UK version is on the drawing board for publication in 2014.
Mr. Otton freely shares insights into his non-bank-loan strategies that have allowed everyday UK men and women to beat the rental cycle and have their own homes. He coaches others on how to build profitable businesses by facilitating transactions that focus on the needs of potential buyers and motivated sellers.
Access his free downloadable Power Property Profits Pack at RickOtton.co.uk, as are the details of early bird pricing for his next UK 3-day real estate training conference in March 2014. Phone enquiries in the UK are welcome on 0207 000 1027.