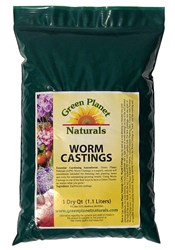 At Green Planet Naturals our customers are not 'just' customers; they become our friends. We look forward to our friendship with you, and to watching it grow.
Medford, OR (PRWEB) November 12, 2013
Green Planet Naturals suggests that worm castings are just as great to use indoors as they are outdoors. With fall here and winter soon upon us, growing living, blooming, and edible plants doesn't have to wait until the weather is warmer again. These days, gardeners can grow almost anything indoors, any time of the year—with help from a few friends. Worm castings are an odor free, burn free, and super easy way to feed indoor green friends. Green Planet Naturals Worm Castings are now available in several bag sizes for a high-nutrient, natural, and organic way to feed all houseplants and indoor edibles.
http://www.greenplanetnaturals.com/worm-castings-superfood-for-plants/
Plant prescription: worm castings subscription! Green Planet Naturals is offering two subscription choices, depending on the number of plants needing to be feed:

Monthly: Subscribers receive a 1-quart bag of Green Planet Naturals Worm Castings every month for a year.
Bi-monthly: Subscribers receive a 1-quart bag of Green Planet Naturals Worm Castings every other month for a year.
Subscriptions offer an easy way to remember to feed houseplants regularly without needing to store another product in the cupboard or shelf, all in a single purchase.
Using worm castings is easy; sprinkle worm castings around the base of each houseplant monthly for the best results. Apply 2 Tbs. of worm castings on small plants and 4 Tbs. on larger plants monthly. Add water, light, and love. The nutrients naturally leach down into the soil with watering. Using worm castings indoors is an easy way to have a green thumb.
Green Planet Naturals, providing products for indoor and outdoor gardening in small spaces including: organic compost, potting soils, seed starting mixes, soil amendments, pumice, and gardening supplies like worm composters and soil block makers.