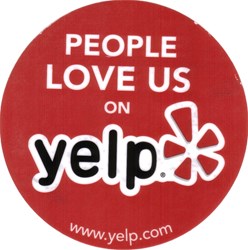 (PRWEB) November 12, 2013
Sub Zero Ice Cream & Yogurt in Gilbert, Ariz. has been voted one of the best by Yelp.com users. This October, the Gilbert store received recognition from Yelp.com for maintaining a 4 out of 5 star rating since they've been open. With over 35 reviews, this accomplishment has made them one of the best spots in town to get ice cream.
This Yelp recognition has made Sub Zero Ice Cream & Yogurt in Gilbert a "Yelp approved" local sensation that customers love to experience time and time again. Since Yelp is one of the most prominent online review websites available, this honor is not held lightly.
"Customer service is our passion and we strive to provide it at our best each and everyday," said Leon Merkley, Area Developer in Arizona and Southern California. "Receiving recognition from Yelp further validates our motto of quality customer service and makes us even more dedicated to keep up the good work."
In addition to great customer service, this Arizona location attributes its online success to catering and local education presentations. These opportunities allow Sub Zero to enter the community beyond the store boundaries.
"While our store is the primary source of business, we believe it is important to penetrate the community on many levels," said Kirk Keating, Catering Manager for Sub Zero Ice Cream & Yogurt, Arizona. " With mobile catering, customers can experience Sub Zero Ice Cream on many levels and we can improve our process from their additional feedback."
Along with written recognition, the Gilbert Sub Zero store received a sign indicating they are a "Yelp approved" location for each customer to see. This sign will be used to encourage further reviews, which provide needed feedback to help the store improve.