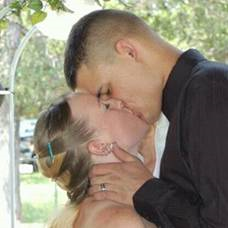 Los Angeles, CA (PRWEB) November 12, 2013
PlushLittleBaby.com recently crowned the winner of the first ever Ultimate Military Family Giveaway and Getaway to the new mother and active military personnel, Amanda and Russell Dewight Kuder E4 SPC, respectively.
The announcement was unveiled via video conference with the thousands of miles between them anything but a barrier. From Las Vegas, to New York and Bagram, Afghanistan, PlushLittleBaby.com and PLUSH CEO and Founder, Jina Park, was able to bring the two together to unveil the prizes and showcase their reaction.
The grand prize consisted of $10,000 worth of the top baby products in the industry, including one BelleFont Kids Stanford crib valued at $799, two Munchkin Angel Swaddle Collection sets, ultimate gift baskets and Safe Step gates valued at $620, one Quinny buzz stroller valued at $580, one Serena & Lily Sausalito Basket valued at $350, one Graco Pack-n-Play Playard with Cuddle Cove Rocking Seat valued at $220, and much more. For the complete story and full list of sponsors, please click here.
Living without any friends or family nearby, or even the opportunity for a baby shower or honeymoon, Amanda was ecstatic to find out that she had won.
"Five days after we married, my father, an Army Vet himself, had a tragic accident and passed away at 39. It was, and is still very hard on us. Shortly after, we found out we were pregnant after a 'Permanent Change of Station' but sadly we lost our baby… My husband is now deployed. Losing my father is still hard on me, so my husband's deployment during my pregnancy is even harder to deal with, however he has a duty to his country and we support this hands down," stated Amanda Kuder in the entry.
Amanda Kuder entered the contest without the slightest notion that her family might win. It was her family's distinguished dedication to America that drew the PLUSH judges to crown the family as the grand prize winner.
About PLUSH
PLUSH is a baby and toddler trade and consumer show dedicated to all the posh and eco-conscious retailers and parents who are continually setting the next big trend. Unlike other juvenile shows in the industry, PLUSH sets itself apart by being one step ahead, and selecting vendors that are worth the time and consideration. Jina Park uses endless research on what today's modern parents are seeking and finds the best, most innovative, eco-friendly, and luxurious products on the market, and places them all in one location for retailers, consumers, and media. PLUSH adds the incredible dimension of entertainment and mainstream media coverage and A-list celebrity marketing opportunities to a juveniles industry show. PLUSH 2012 had The Honest Company's Jessica Alba as their title sponsor. PLUSH 2013 included celebrity hosts Jason Kennedy and Lisa Rinna, with celebrity guests including Garcelle Beauvais and Kathryn Morris.
###