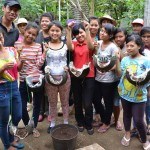 "Sustainability is Growing with The R.O.L.E. Foundation"
Houston, TX (PRWEB) November 13, 2013
Michael Chaplinsky, the president of Turf Feeding Systems, just returned from a trip to Bali Indonesia where he formed important strategic partnerships with two leaders working to implement sustainability in Bali.
R.O.L.E. Foundation
Michael O'Leary, the CEO/ founder of The R.O.L.E. Foundation is a leader who has been implementing and teaching the principals of sustainability on the island of Bali for many years.
The R.O.L.E. Foundation is a non-profit humanitarian organization whose aim is to improve the education, wellbeing and self-reliance of people living in underprivileged circumstances, whilst ensuring environmental resilience and sustainability.
Mr. O'Leary, an Australian businessman, who has lived in Bali since the late 70's felt there was a need for change on the island. O'Leary wanted to help.
Mr. O'Leary realized there was no short-term solution to the humanitarian and environmental issues facing Bali. Following his passion and energy, O'Leary formed the R.O.L.E. foundation in 2007 focused on rivers, oceans, lands and education (R.O.L.E. Foundation). He created The Island Sustainable Education Centers to provide long-term educational programs and short-term action projects with successful results.
The two campuses of the Sustainable Education Centers allow for research and awareness projects to be completed. These projects are vital for the students to change their lives and improve the habitat of Bali.
Bali Golf Resort
Mark Isley is the golf course superintendent at Bali Golf Resort, and is also now focused on sustainable golf practices for the resort. Mark is an American expat who has lived on Bali since 1991 when he built Bali Golf, one of the top golf resorts in Indonesia. Mark has roots in Indonesia with a Bali family and a love for the unique island culture. But like Michael O'Leary, he realized there is a need for sustainable practices in Bali.
After over twenty-two years, Isley has great experience managing the golf course and resort in Bali. He wanted to reduce the use of chemical fertilizer and chemical pesticides on his resort, to reduce the high cost as well as the health hazards to the environment and his workers.
Isley is just completing the renovation of Bali Golf and purchased a Turf Feeding System fertigation system for the management of the course. Michael Chaplinsky supervised the installation of the fertigation system, trained his workers and now Mark is using it with noticeable success. The course has improved as he has reduced the use of both fertilizer and chemicals significantly.
Isley is very interested in implementing sustainable management practices at the Bali Golf Resort and has turned to the R.O.L.E. Foundation for help.
Isley will also coordinate career classes with the R.O.L.E. Foundation to send their students to the golf course to take part in apprenticeship training for golf course maintenance.
Sustainable Partners
Michael O'Leary is changing Bali through education and sustainable practices, and his R.O.L.E. Foundation is the cornerstone for sustainability in Bali.
Mark Isley brings resorts into the partnership with the R.O.L.E. Foundation by implementing sustainability into the economics of a commercial resort with career training and chemical reduction and improved soil health.
Both partners are planning to expand composting together to a higher level using chicken litter to produce high quality organic fertilizers for the golf course and horticulture.
Sustainable Principles
Mark Isley wants to work closely with Michael O'Leary to create a Sustainable Bali program with the R.O.L.E. Foundation to formulate, training, evaluations, certifications for sustainable resorts and golf courses as a stewardship certification.
Isley and the R.O.L.E. Foundation will be drafting their guidelines for sustainable principles and practice for Bali. Isley strongly feels they need to write their own practices for Bali and not use programs from America or Australia. Their island and its people are unique with very different resources and cultural practices.
Turf Feeding Systems as a partner will contribute fertigation products and technologies to these programs and to the R.O.L.E. Foundation to help and share, and implement sustainability into another place in the world.
Contact Information: Michael Chaplinsky - President at http://www.turffeeding.com
Email: mc(at)turffeeding.com Twitter: mc_turf
Phone: 713-849-9040 Cell: 713-504-0750
Turf Feeding Systems, Inc. - 5829 W. Sam Houston Pkwy N – Suite 1105 – Houston, Texas 77041 - USA
Bio:
Michael Chaplinsky – President / Founder Turf Feeding Systems
Turf Feeding Systems - Houston Texas – USA - The world leader in packaged fertigation systems (fertilizer injection into irrigation) for Golf, Sports Fields, Landscapes, Resorts and Agriculture.
Mr. Chaplinsky has worked for over 25 years implementing Water Efficiency and Sustainability into all types of irrigated projects around the world. He speaks at many conferences and lectures on Sustainable Soils, Landscapes, Golf and Agriculture.
Mr. Chaplinsky has worked with the top scientists and engineers on project that include construction, revegitation, bio-remdiation and beach erosion.
Mr. Chaplinsky brings technologies and practices together to promote plant and soil health, and create the values and benefits of Sustainability.