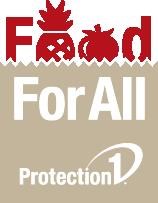 Chicago, IL (PRWEB) November 12, 2013
Protection 1, the largest full-service business and home security company in the U.S., today announced November as Food for All month at Protection 1. Food For All is part of Protection 1's ongoing 1 For All initiative that supports and encourages the more than 70 Protection 1 branches and over 3,000 employees nationwide to identify a way to make a positive impact in the local community their office serves.
For November, all Protection 1 branches across the country are joining forces, implementing the Food For All program and identifying a local food bank that needs support.
"Improving neighborhoods and communities is at the core of what we do at Protection 1," said Timothy J. Whall, Chief Executive Officer. "The Food For All initiative is a way to remind ourselves as a company what our purpose is while helping those around us. We know that the onset of winter presents a challenge for food banks working to help community members around the country and we wanted to put all of our 70 locations together to focus on the issue of hunger for November."
Throughout November, Protection 1 will spotlight some of the food banks on social media channels as well as through its employee wellness blog. The food drive has officially begun and will wrap up Saturday, November 30th.
Branches have identified local organizations and have begun collecting. To see a list of where Protection 1's efforts will benefit in 2013, visit protection1.com/foodforall.
About Protection 1
Protection 1, the largest full service business and home security company in the U.S., provides installation, maintenance, and monitoring of single-family home security systems business security systems and multifamily security systems. The company's relentless focus on customer service has resulted in the removal of their automated phone attendant, the introduction of the Tech Tracker service and the ability to provide same-day service in most cases. In 2012, the company was recognized by leading industry publication SDM as Dealer of the Year for the unique ways the company approached its business, the industry and the surrounding community that year. Protection 1 is also the nation's largest provider of wholesale monitoring services, through its CMS division, and the leading provider of multifamily security systems installation, maintenance and monitoring through its Network Multifamily division. Protection 1, which serves more than 1 million customers and employs over 2,500 people in more than 70 locations across the country, has a 95.6% customer satisfaction rating and an A+ Better Business Bureau Rating. For more information about Protection 1, visit http://www.Protection1.com.