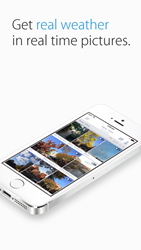 MoWeather, picture the weather whatsoever, run a good day altogether!
Santa Clara, California (PRWEB) November 11, 2013
There's no doubt that the use of social media has exploded in the past decade. Facebook now has nearly one billion users and, according to Social Media Today, YouTube is accessed by more adults than any cable TV network. The latest development in this fast-moving world sees one app embracing the concept of social networking to take weather forecasting and temperature planning to the next level.
MoWeather, which is on the brink of releasing its highly anticipated version 2.0, offers on-the-spot weather forecasts for wherever life may take you, providing real weather in real pictures. The app works by offering immersive animation to let users look at local weather conditions wherever they may be headed. Combined with a detailed 15-day forecasting feature, MoWeather allows both personal and business users to plan ahead through the application of crowd-sourced images and social networking.
The uses are quickly apparent. Planning itineraries for holidays and outdoor activities has never been easier. From sharing with friends, to background animation, to a graphic display of temperature trends, MoWeather version 2.0 makes everyday life a whole lot more simple.
The easy to use app includes optimized gestures for a smooth user experience, and this functionality has been carried over and improved upon for the new version. MoWeather 2.0 will also include a key new feature – real view weather pictures, which users upload and link with their geographic location, providing some of the most up to date and reliable weather reporting available on the planet.
This innovative use of social media has already resulted in an incredible 100,000 photographs being uploaded daily by users of the Chinese version of the MoWeather platform. Li Jin, CEO of Moji Fengyun, the leading development company that is the brains behind the app, explains the ethos:
"Since we founded our company four years ago, our mission has been to provide better weather forecast services to users around the world. The result of our hard work is the MoWeather app and I'm really excited about the release of version 2.0. We've pulled together the latest and best of everything for this version, so we combine elements of photography, crowd-sourcing and social networking to provide a really incredible app."
With users liking, commenting on and sharing images, and compatible with all mainstream operating systems, including Android, iOS, Symbian and WP8, the new version of MoWeather is well positioned to take the app world by storm. Version 1.1 has already demonstrated that personal and business users alike very quickly find that this is one app they cannot do without. Now, the new and improved version 2.0 is set to take weather forecasting and temperature planning to a whole new level.
For more information, contact MoWeather on http://www.moweather.com or download the latest version from the app store.