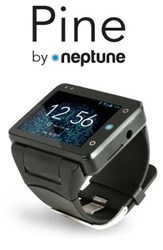 The Pine brings everything together in a stylish and powerful package.
Montreal, QC (PRWEB) November 19, 2013
Neptune Computer Inc., a Canadian startup that designs, develops, and sells wearable computers, is undertaking a crowdfunding campaign on Kickstarter to support manufacturing of their flagship product, the Neptune Pine smartwatch.
Neptune hopes to raise $100,000 with the 33-day-long campaign. Supporters are being offered everything – from big savings on the smartwatch to accessories such as helmet mounts and a heart rate monitor that enhances the Pine's mobile fitness capabilities.
The Neptune Pine is the world's most connected standalone smartwatch. The powerful device can make and receive phone calls, browse the Internet through WiFi or 3G, provide GPS navigation, video chat and much more; all independently without the presence of a smartphone.
Meant for consumers who value simple, intuitive and practical solutions, the Pine allows users to be discreet when using smart technology.
Founded by 19-year-old entrepreneurial, Simon Tian, Neptune Computer hopes to help customers live more efficient better lives through technology.
"We started out with a realization that disparate technologies could be brought together in a way that had never been done before with a real impact on peoples' lives," said Tian. "So many smartwatches have appeared in recent times, but most of the wrist-worn devices on the market right now don't really seem to be living up to the hype. We have a device that we think will truly live up to everyone's expectations. The Pine brings everything together in a stylish and powerful package. Our hope is that it helps people live more freely," continued Tian.
The Neptune Pine puts a social media hub, a fitness lab, video game console, a media player, two cameras, a dual-core processor and a phone on your wrist. Here are some of the key features of the Pine.
1. The Pine allows users to make phone calls and send text messages on most mobile carriers worldwide, thanks to its support for quad-band GSM.
2. The Pine offers full 3G and Wi-Fi, allowing users to browse the web, check social networks such as Facebook and Twitter, send and receive email, and much more.
3. The Pine runs most of Android's large number of existing apps.
4. The Pine sports a full QWERTY keyboard on its 2.4" capacitive touch screen.
5. Front and rear-facing LED flash cameras enable video chat capability
6. Pine supports Android's powerful voice input engine, as well as Voice Actions.
7. With built-in GPS, accelerometer, gyroscope, pedometer and a digital compass, the Pine is an extremely capable fitness watch
8. The watch is removable from the secure wristband and can be worn with various accessories such as mounted on the Neptune Helmet Mount.
"No other smartwatch offers everything we do right out of the box. As soon as you strap on your Pine you can access the world's best Android apps, video chat with friends and relatives, or monitor your next cycling trip. And you won't need any other devices to make things happen," continued Tian.
A few of the Pine's other features include:

Support for 2G/3G, Wi-Fi, GPS and Bluetooth 4.0
2.4-inch QVGA capacitive touch screen
Superb battery life, with up to 5 days' standby.
Support for 48 different languages
Neptune PulseCounter™ allows to monitor heart rate in real-time
Micro-SIM card slot
More memory storage than any watch out there, with up to 32GB of mass storage
Qualcomm Snapdragon S4 1.2GHz dual-core processor
(See all technical specifications at neptunepine.com/tech-specs).
With the Pine close to mass production, Neptune is launching a crowdfunding campaign on Kickstarter, offering big perks to multiple levels of donors with a savings of over 30% on many of the donation packages. Click here to view the full list of pledges.
"We're pumped about this campaign, and are looking at Kickstarter as both a crowd-funding platform, as well as a good vehicle for getting our product known world-wide," said Tian.
The Neptune Pine is already receiving rave reviews from the tech industry. Below are just a few of the accolades:
"[The Pine] is a timepiece with sexy specifications, a cool (and actually usable) interface, and total independence from a smartphone." CNET
"Smart watches are everywhere these days. But of all the time-telling, wearable, connected devices, it's possible that this new offering from Neptune may be the coolest I've ever seen." – TechCrunch
"It looks sleek, sexy and totally awesome." –Droid Life
"This is the type of watch that gadget lovers have craved for generations." – Gizmag
"Quite a good-looking gadget, with minimalist and modern lines… It could start a whole new era of smartwatches." –GSM Nation
To book an interview with Simon Tian of Neptune Computer or see a demo of the device please contact Jackson Wightman via the information below.
Media Contact:
Jackson Wightman
(514) 605 9255
Jackson(at)properpropaganda(dot)net
Follow @NeptunePine on Twitter, check us out on Facebook, and visit http://www.neptunepine.com for more information.