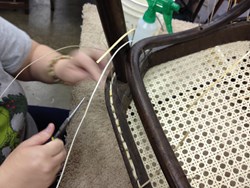 The Center Houston and The Cullen Caners are a great resource for antique furniture collectors.
Houston, Texas (PRWEB) November 12, 2013
Antique furniture collectors rejoice. The Collectors Show on Web Talk Radio (http://www.webtalkradio.net) introduces caned furniture to the audience this week. Caned furniture gets its name from the woven mats on the seats and backs of these pieces of furniture. This style of furniture was especially popular in hot, humid climates.
Mats Allow Circulation
In contrast to traditional upholstery or cloth-covered chairs, the mats on the seats and backs made air flow and circulation possible. This furniture was in homes and popular at the end of the 19th century and the start of the 20th century. But antique collectors have a difficult time selling caned chairs as these pieces are often in need of repair. Weaving intricately patterned rattan mats requires painstaking handwork and special training. Expertise like this is often difficult to find.
The Center Houston
The Center Houston is a place where this work can be accomplished with world-class results, honoring the original design and replicating even the most complex patterns. Part of the work at The Center Houston is vocational training. As part of that training, The Cullen Caners represent skilled artisans adept at restoring cane, rush, and wicker furnishings including valuable antiques and intricate hand woven pieces. Their diverse and esteemed clientele base includes local museums, antique dealers, decorators, and individuals. The Cullen Caners price their work competitively and can deliver finished, repaired goods in a timely manner. The Center Houston is a place where a diverse group of individuals with varying developmental disabilities and needs.
The Center's vocational training program is a multi-tiered program provided to over 250 adults with developmental disabilities offering pre-vocational, vocational and employment training based on the individual needs and personal goals of the participants. Individualized training prepares many trainees for community-based employment. The multi-tiered program design allows for individuals to train at their pace, set goals for employment and acquire valuable skills that contribute to their overall growth and development. The sense of pride and accomplishment felt by program participants does more than prepare them for employment, it prepares them for life by teaching skills that guide their personal choices and promote independence.
Laurence C. Zale
Larry Zale introduces us to some realities about sports collectibles in the first of a two part series on this topic. Visit Larry's web site at http://www.visualartsadvisory.com.
About The Collectors Show
With host Harold Nicoll, The Collectors Show can be heard on Web Talk Radio (http://www.webtalkradio.net) and features collectors of all types. No matter what your interest, collecting is a pastime enjoyed by hundreds of millions of people. Collecting, whether buying, selling or hunting is an industry all by itself and helps to drive all types of commerce. Listen every week for more insights on collections, collectibles and collectors. To visit the show web site, go to http://www.collectorsshow.net for all the latest from the world of collecting.