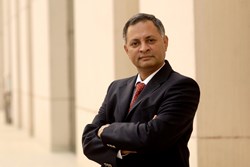 Plano, TX (PRWEB) November 12, 2013
Pinnacle Strategies announces that Ram Guduru joined Pinnacle Strategies as General Manager of Asia Pacific (APAC). He will oversee all Asia Pacific business operations, including business development, resource management, and project delivery. In his role, reporting to Pinnacle Strategies' CEO Mark Woeppel, Ram will lead the growth and expansion of the Asia Pacific region for Pinnacle Strategies. He will lead a team of international experts based in the region to help Asian and Multinational clients achieve breakthrough improvements in operations and performance.
Guduru will be headquartered in Singapore to manage Pinnacle Strategies' efforts in helping companies in Singapore increase productivity. Pinnacle Strategies' core technology used to increase productivity is applied to supply chain management, operations management, project management, and performance management. The RABIT process, Pinnacle Strategies' operations management solution, consistently produces dramatic increases in process output and productivity. So much so that Pinnacle Strategies can confidently promise 20% more output in two months – without additional capital investment. Viewpoint, Pinnacle Strategies' project management solution, is a visual project management that addresses the root causes of poor project management performance and produces rapid improvements to the project management system.
"I'm pleased to announce the addition to our leadership team," stated Mark Woeppel. "He has deep experience in Asia building businesses." Ram has 25 years of experience working with large clients in Asia Pacific markets in areas of business consulting, channels and sales excellence, ERP, analytics, planning and performance management, and industrial automation. He has worked in leadership roles in companies like Invensys, SAP, Cognos/IBM and Andersen, among others. He has a graduate degree in engineering and a post-graduation in management from the Indian Institute of Management Bangalore (India).
About Pinnacle Strategies
Pinnacle Strategies is an international management consulting firm focused on operations management excellence. We work with organizations to increase shareholder value by developing high-performance business processes that significantly enhance productivity, reduce costs and time to market, improving profitability and accelerating sustainable growth. Pinnacle Strategies offers results-driven consulting solutions in the areas of performance management, project management, operations management, and supply chain.
For more information, contact Pinnacle Strategies at info(at)pinnacle-strategies(dot)com, or +1 972-492-7951. In the APAC area, please contact Ram Guduru at: 435 Orchard Road, 11/F Wisma Atria, Singapore 238877; rguduru(at)pinnacle-strategies(dot)com.