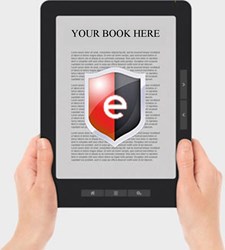 (PRWEB) November 13, 2013
EditionGuard just made it even easier for anyone to sell eBooks online with easy-to-embed PayPal buttons. These buttons can be embedded in any website or email, so EditionGuard users can start selling within minutes.
According to Book Consumer Demographics & Buying Behaviors 2013 Annual Review, eBook buyers are younger, more affluent and better educated than print book buyers – an observation that mimics PayPal's audience. Eighty-eight percent of PayPal customers are under the age of 55, 16% report an income greater than $75 thousand, and 15% have completed graduate school. Selling eBooks online with PayPal is not only appropriate for reaching eBook buyers, but with EditionGuard, it also represents the easiest and fastest way to sell eBooks online.
EditionGuard runs on the powerful and secure Adobe Content Server (ACS), which digitally protects PDF and EPUB eBooks and allows them to easily and safely be distributed through supported devices, such as smartphones and tablets. EditionGuard's innovative platform allows anyone to access this system that was previously only available to large corporations. With flexible pay-as-you-go options, shopping cart integrations, and now a PayPal option, small and medium-sized businesses and budding entrepreneurs can sell eBooks with ease.
Anyone interested in selling eBooks online can sign up for a free 30-day no-obligation trial on EditionGuard's website and follow the step-by-step video to create PayPal buttons for their eBook products.
About EditionGuard
EditionGuard is an affordable hosted eBook DRM (Digital Rights Management) solution for protecting ePub and PDF eBooks from piracy. It leverages the industry standard DRM system Adobe Content Server, the same technology used by the biggest names in the digital publishing sector.