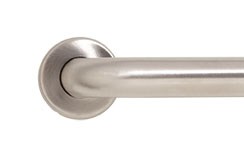 We offer some of the best prices in the country on walk in tubs, handicap showers and safety grab bars!
Miami, FL (PRWEB) November 12, 2013
Elderly bathing products provider, Aging Safely Baths announces a new line of domestically manufactured safety grab bars. The high quality grab bars can be installed around a shower, walk in tub surround or any other location where someone may want extra support. The grab bars are no assurance of safety, however they can provide something stable for people to grab onto. They can be commonly found in handicap accessible bathrooms, handicapped showers and assisted living centers.
According to the company, customers may order products individually or in bulk. Commercial organizations that order in quantity can receive substantial discounts on products. Builders, nursing homes, long term care facilities and hospitals can apply to have an account set up, so they can receive ultra-low wholesale pricing.
As the baby boomers determine the best way to approach aging, many are finding that staying in their home is equally as feasible as a nursing home with the proper modifications. Sometimes staying in the home isn't possible and long term care is a necessity. However in certain cases aging in the home isn't only possible, but it's the better choice.
Someone may elect to stay in their home versus a retirement facility for a few reasons. Familiarity is a big one. Being able to remain in the home where life's cherished memories remain is something one can't put a price on. Secondly, the home doesn't typically feel as institutional as many of the retirement homes can.
The bathroom is one of the most important rooms to have updated. Installing a walk in bathtub or handicapped shower can potentially make it easier for a bather to bathe. Being able to enter and exit the appliance is essential. Some bathers don't have the ability to lift their leg very high. These bathers may want to consider installing a low threshold shower unit with a padded seat.
Hydrotherapy is another wonderful accessory that's optional with these specialty appliances. It can be enjoyed in the comfort of home or installed into a commercial location. Aging Safely provides several of the top premium whirlpool spa systems with warm air hydrotherapy.
Learn more about Aging Safely products on their website or contact a customer care consultant at the number provided below. In addition, they offer no cost shipping on several of their products. Installation services provided in most areas, or clients can purchase the tub and have their own contractor install it.
Contact Information:
Zach Wennstedt
1-888-779-BATH(2284)
info(at)Agingsafelybaths(dot)com